12 Spring Home Maintenance Tips
April 4, 2023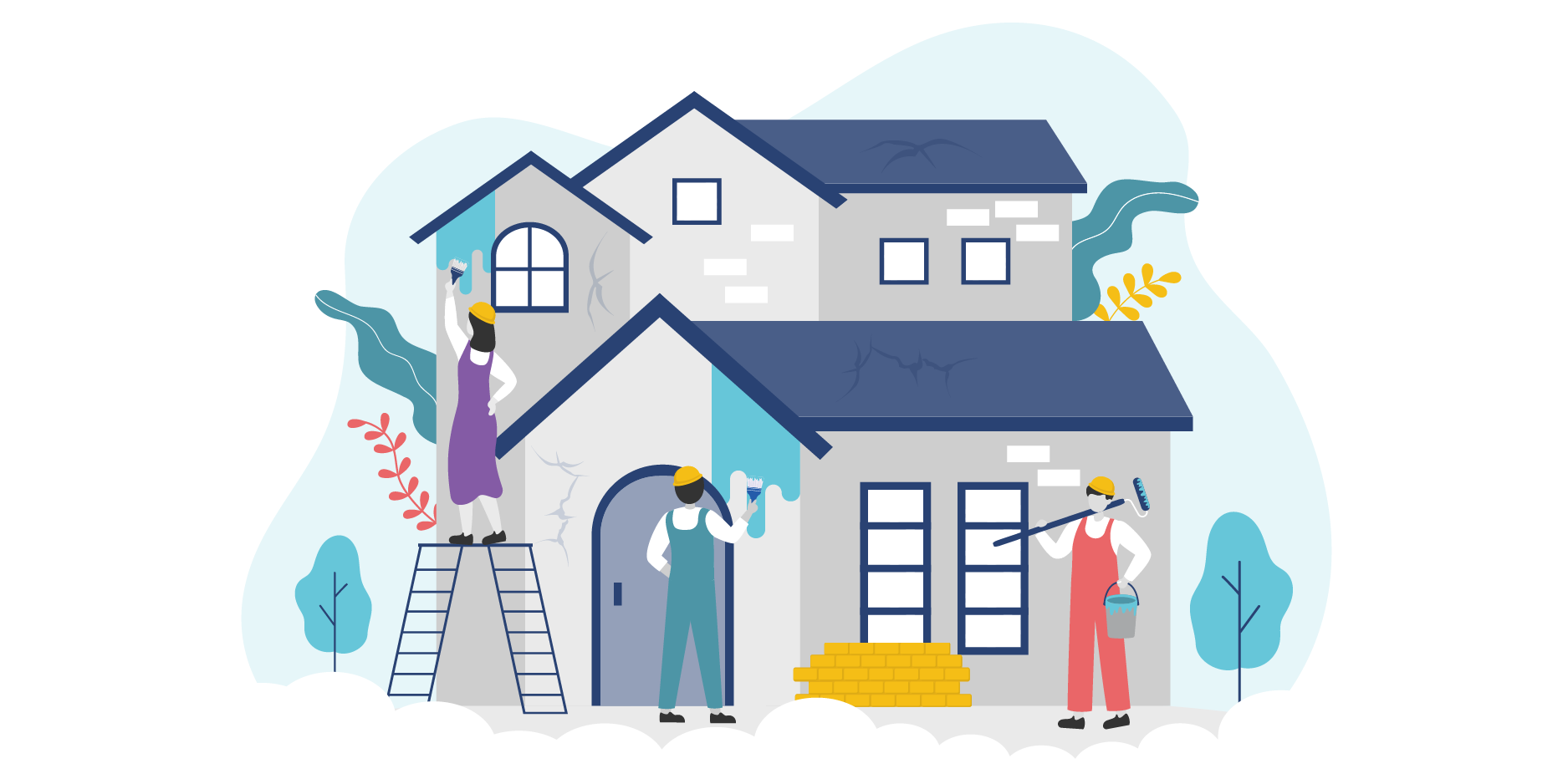 Here's a little-known fact about Home Insurance: it won't typically cover any issues that arise due to poor home maintenance. To prevent an avoidable disaster, it's crucial to keep track of any minor problems that might spring up around your property before they snowball into a much bigger inconvenience down the line.
As spring arrives, it's time to restore your property in the aftermath of snow and hail storms—and prepare for the upcoming summer season. Don't know where to start? Here are our top spring home maintenance tips to help you recover from the harsh winter months and get ready for warmer days: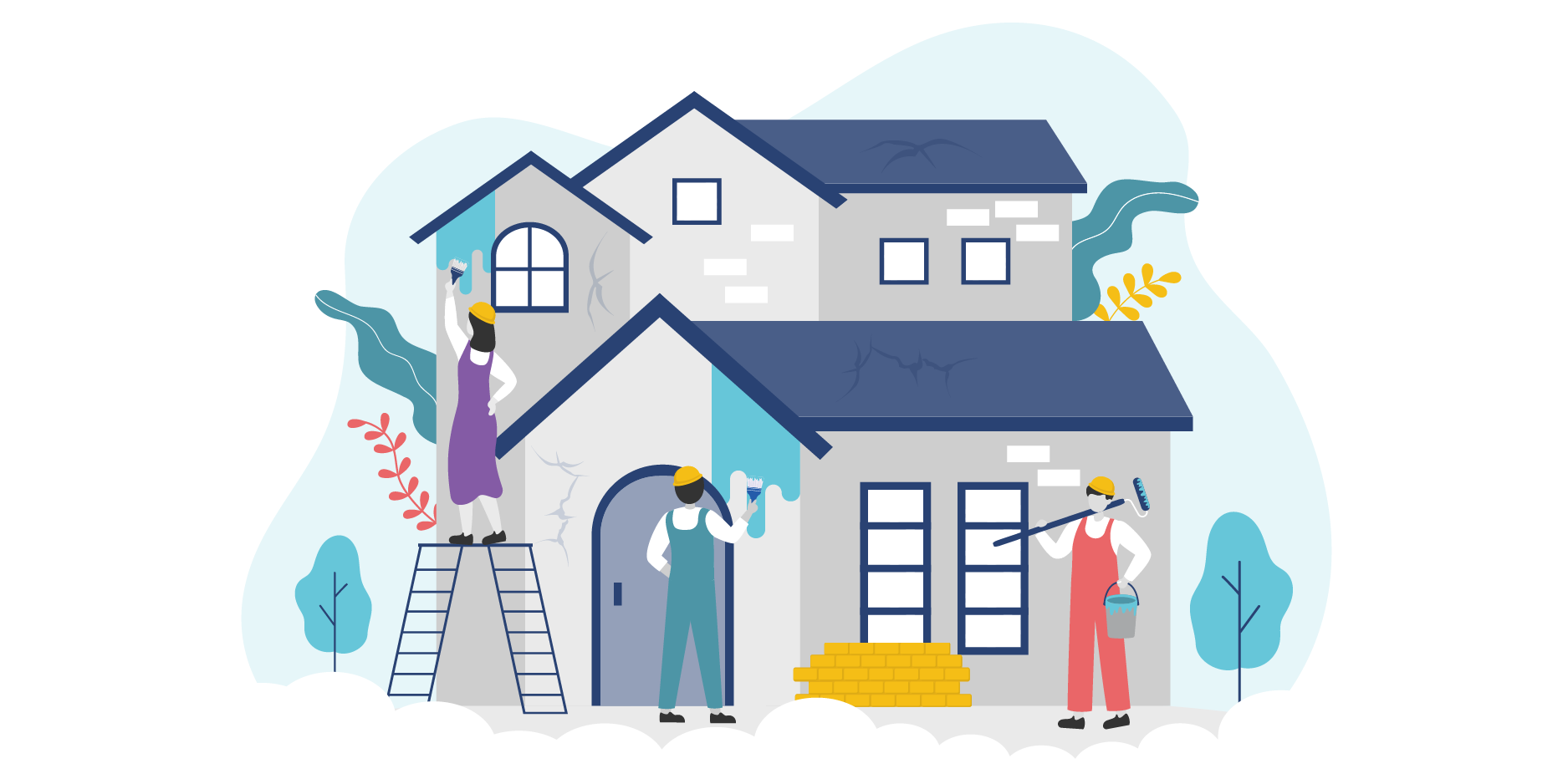 1. Do some spring cleaning.
Spring is the perfect time to pay some extra attention to the often-neglected corners of your home. Starting off the season with a clean space means you'll have one less thing to worry about as you enjoy the warmer weather—and it'll give you the chance to examine your home for any issues that you might have otherwise missed.
Conduct a full inspection of your home, paying close attention to your attic and basement. Look for signs of damage from water or mold, cracks in the walls, floors, or ceilings, leaks resulting from melting snow and ice, and insects or critters that may have nested over the winter. If you come across any issues, address them right away.
Deep clean your house from top to bottom to minimize dust, pet hair, and other allergens. Reduce clutter by selling, donating, or trashing unwanted items. Take inventory of your most valuable belongings, and consider contents insurance to keep them protected.
RELATED: 4 Signs Your Home May Be Underinsured
2. Seal windows, doors, and screens.
Cold temperatures can cause the caulk around your windows and doors to harden and crack, so we recommend checking all the windows and doors in your home for any breezes coming through the edges. Fill in any cracks you find in the trim with some caulking to keep the humidity out and stop air from leaking and driving up your utility bill.
If you encounter issues like misshapen frames, improper sizing, or cracked/broken glass, be sure to get the offending window or door replaced sooner rather than later. Additionally, check all the screen doors and windows in your home for any holes and tears, and repair or replace them in preparation for the warmer months.
RELATED: 4 Weather-Related Coverages You Might Not Know You Need
3. Examine your roof.
Inclement weather conditions, including snow, hail, and wind, can cause the condition of your roof to decline over time. Now that the worst of winter has passed, take the time to check your rooftop for any cracks, and broken or missing tiles or shingles. Get any damages fixed as early as possible to avoid sustaining further damage in the summer sun. If you notice anything that needs closer inspection or repairs, hire a professional roofer to help you out.
RELATED: 12 Things You Shouldn't Ignore Before Buying a Home
4. Inspect and maintain exterior woodwork.
If you have any exposed wood outdoors on your property, such as fences, decks, patios, or railings, now is the time to investigate and perform the needed maintenance. Ideally, wood should be stained or resealed every year or two to extend the lifespan of wooden structures and protect them from factors such as moisture and UV rays.
Keep an eye out for not only damage, decay, and unstable areas, but also signs of termites. These winged insects swarm in the spring and may make their home inside holes in wooden structures. If you encounter any around your home, don't hesitate to call in a licensed pest control professional to save both money and hassle in the long run.
RELATED: 10 Things Your Home Insurance Doesn't Cover
5. Fix up the exterior of your home.
It's no secret that winter storms have the potential to wreak havoc on structures. After the snow clears, examine your home's exterior for any signs of damage or wear and tear. Chips and cracks in bricks or stucco should be repaired right away to avoid allowing any moisture to penetrate the interior of your home. Replace the siding or trim on your home if it's beginning to deteriorate or rot.
Keep your windows and walls squeaky clean by power-washing or rinsing and wiping them down to get rid of dirt, moss, and other stains. Once any significant damages have been taken care of, consider touching up any areas that might need a new coat of paint. But keep in mind: one spot in need of new paint might mean repainting a whole section of siding or trim to maintain colour consistency.
RELATED: 7 Things to Consider Before Buying Home Insurance
6. Check for pavement cracks.
Freezing and thawing over the winter months can take a huge toll on surfaces like concrete and asphalt. Inspect your driveway and nearby sidewalk for any cracks, and if you find any, seal them as soon as you can. When weather permits, consider power-washing the driveway to get rid of any stains caused by salt and snow.
7. Check outdoor faucets and sprinklers.
Inspect faucets and hoses for signs of leaking or damage, and test the functionality and water pressure of faucets and sprinklers. Make sure that none of your sprinkler heads are spraying directly toward your home, the street, or sidewalks, to avoid wasting water and potentially causing moisture problems. Being proactive about the condition of your sprinkler system will help you to cut costs, conserve water, and save your plants. If you need additional assistance, contact a sprinkler maintenance professional.

RELATED: 15 Insurance Tips for First-Time Homebuyers
8. Bring out the outdoor furniture and equipment.
To prepare for the warmer days ahead, pull your outdoor furniture out from storage, clean your BBQ grill, and get the lawnmower ready by fueling up and sharpening its blade. If you have any exterior lights or motion sensors, now is the time to check if they're functioning properly and replace bulbs if needed. Take a trip to the local hardware store or gardening centre to stock up on the tools and supplies you'll need for the season.
9. Prepare your lawn and backyard.
Get your yard spring-ready by trimming overgrown shrubs and potentially hazardous tree branches, and removing any debris left behind in the aftermath of winter. To help your grass grow back greener, apply a fresh layer of topsoil, fertilize, and reseed the lawn—you can even consider aerating the lawn to allow air, water, and fertilizer to reach the roots more effectively.
RELATED: 6 Tips for Protecting Your Seasonal Property
10. Clean the gutters.
We know this isn't always the most pleasant task, but it's important to clean out your gutters before the spring rains start so that you don't end up with water damage from clogged gutters. Check for any leaks, and make sure that your downspouts are pointing outwards, so that the meltwater will be directed away from the foundation of your home.
RELATED: April Showers Bring May Flowers…And May Floods Too
11. Inspect your air conditioning system.
Cool air provides relief on boiling hot summer days, so be sure to double check that your air conditioning system is in full working condition before a heatwave hits. Conducting annual maintenance will ensure that your AC stays functional, reliable, and energy efficient. Change air filters regularly, and don't shy away from calling a qualified professional to service your AC unit if needed.
RELATED: 6 Ways to Lower Your Home Insurance Costs
12. Test smoke alarms and carbon monoxide detectors.
Check the batteries and expiration dates on your smoke alarms and carbon monoxide detectors to make sure they're in good working order. We recommend completing this task at least twice a year—it'll only take a few moments, and could potentially save lives.
RELATED: 5 Advantages of Using an Independent Insurance Broker
You've taken all the necessary measures to ensure your home is in the best condition possible. The next step? Making sure that you're also protected from the unexpected.
PROLINK—Canada's Insurance Connection can help you find a home insurance solution that fits your needs and your budget. With over 40 years in business and a wide network of over 30 insurers, our dedicated advisors have the experience and know-how to make sure you're getting the right protection for your home, at the right price.
Connect with PROLINK today to learn more!
PROLINK's blog posts are general in nature. They do not take into account your personal objectives or financial situation and are not a substitute for professional advice. The specific terms of your policy will always apply. We bear no responsibility for the accuracy, legality, or timeliness of any external content.