7 Things to Consider Before Buying Home Insurance
July 22, 2020
Buying a home is one of the most important decisions you'll ever make. Whether you're a first-time home buyer, a seasoned pro, or just browsing the market for a new provider, you'll want to make sure that your biggest investment is adequately protected in case of an emergency.
Unlike Auto Insurance, homeowners coverage isn't mandatory in Canada. But it is essential to preserve your home, your belongings, and your financial well-being. Nonetheless, navigating insurance policies can be difficult, stressful and even overwhelming at times. What's covered? What's not? How much do you need? And above all, what makes a good policy? To help you find the right coverage, we've put together a list of 7 things to think about before you sign the dotted line.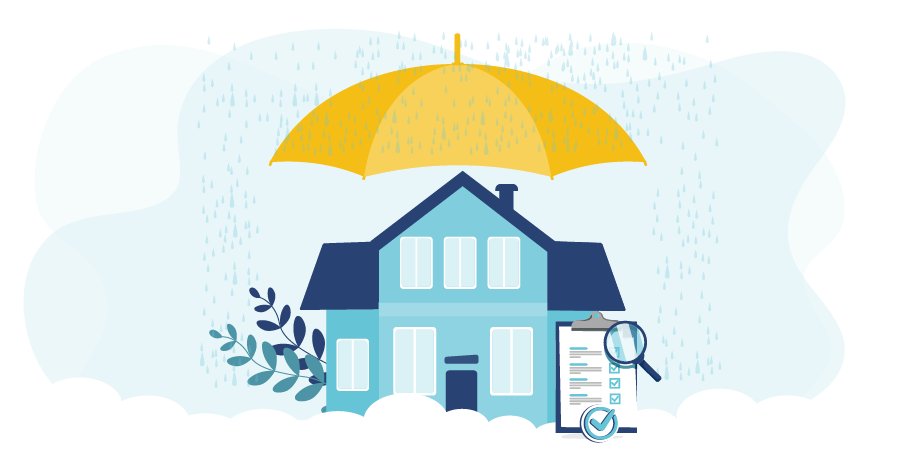 1. Read between the lines.
Core homeowners coverage has three components:
Dwellings: Covers damage or loss to the actual building you live in, be it a house, apartment, or condo.
Contents: Covers loss or theft of your personal possessions.
Personal Liability: Covers legal, medical, and repair costs for any unintentional harm or damage caused to others. This is the part of your policy that applies when someone is injured on your property or if a fire or water leak starting in your home affects your neighbour's house.
PRO Tip:
Carefully read through your policy to clarify your insured perils, terms and conditions, and exclusions. Perils aren't always uniformly addressed across policies; some, like "electrical surge" or "electrical current," may be defined differently, while others will apply in specific scenarios. For example, smoke damage is only covered when caused by malfunctioning cooking devices or heaters, not fireplaces.
2. Beware of overinsurance.
Did you know that the cost of replacing your home isn't the same as what you paid for it, or even its current market price? Understanding the difference between them can make a huge impact on your monthly premium.
Actual Cash Value (ACV): The price you would get for your home on the real estate market today after depreciation, also known as the resale or market value. The ACV also accounts for factors like land, location, and housing demand, all of which have no direct correlation to reconstruction.

Replacement Value: The amount it would take to completely rebuild your home after total destruction without deducting for depreciation, also known as the blanket amount. It encompasses everything from the price and availability of skilled labour to construction materials and building permits.
PRO Tip:
Be sure to insure your home for its replacement value, NOT its actual cash value. Why? Because the ACV includes the land your home is sitting on, which can't be "replaced" and will, in most cases, remain intact after a catastrophe. Property size boosts market value and if your home is worth more than it'll cost to rebuild, you'll be overpaying for your policy.
3. Keep a weather eye out.
Homeowners are feeling the costs of climate change now more than ever. Record-breaking numbers of severe weather events have caused property repairs to skyrocket in recent years. Some of the biggest culprits? Wildfires, high-speed windstorms, and hailstorms. In June 2020, a massive hailstorm in Calgary cost an estimated $1.2 billion in damages alone.
However, you shouldn't count on your Home Insurance to bail you out. Standard policies rarely cover catastrophic weather, natural disasters, and similar "acts of God," even if you live in a storm-prone area. And what's worse than losing your home to a storm? Having to fork out thousands in restoration costs that you thought were covered by your insurance.
PRO Tip:
Make sure your policy (and your home) are disaster-ready. Look out for climate-related gaps in your coverage and add endorsements or separate storm policies (i.e. flood, earthquake, and hurricane insurance, etc.) based on your needs and your location.
4. Think twice about flood insurance.
Water damage is any homeowners' worst nightmare. Even a small leak can soil your furniture, seep into your carpets, and spur mold growth in your walls and insulation. Still, most homeowners decline to purchase flood insurance if they live in a low-risk or elevated area. But don't assume you're off the hook just because your home isn't in a flood zone.
While Home Insurance will cover flooding from a burst pipe or water leak in your home, it won't kick in for sewer backup or overland water that enters your home through windows, doorways, and cracks in the foundation. And it's not just heavy rainfalls, overflowing rivers, or melting snow you should worry about it–extreme weather of any kind can quickly spiral into a domino effect of destruction.
Remember Calgary's hail storm? The one that resulted in $1.2 billion worth of damage? That same hailstorm also led to massive flooding throughout the city. How? Ice from the storm infiltrated sewer systems and created dams of pooled water around houses, which eventually flowed into people's basements.
PRO Tip:
With severe weather events on the rise, a flood insurance rider is a good idea for all homeowners, regardless of zoning. And if you're concerned about the added cost, remember:
If you're not in a high-hazard area, you might get a lower premium.

You can always personalize your protection to avoid buying more than what you really need. For example, if you have a fully finished basement, you'll need enough coverage to replace everything. If your basement is unfinished, you can choose to only insure your furnace, washer, and dryer.
5. Cover all of your assets.
Contents coverage insures personal possessions up to a specific limit, with additional sub-limits that apply to specialty property. That means your policy might not cover exceptionally valuable items over a certain dollar amount, usually around $2,000 or more. And valuable items don't just refer to fine art, furs, and antiques–they also include expensive jewelry and watches, designer clothes, musical instruments, electronics, and even state-of-the-art appliances.
PRO Tip:
Thoroughly document the contents of your home room by room. Include detailed descriptions of each item (dates purchased, model and serial numbers), photos and/or videos, and receipts and appraisals, especially for expensive items. Store your records somewhere secure, such as in the cloud or on a USB drive kept in a safe.
We know it sounds time-consuming, but a few hours of inventory work can help you get the right amount of coverage and save you hundreds of dollars in replacements. Remember to review your home inventory annually (around renewal time) or after making big purchases and notify your insurer if anything changes. Finally, consider a "floater" or extra endorsement to supplement your coverage on costly items.
6. Keep current with your carrier.
Most policies list conditions and contractual obligations you must fulfill to maintain your coverage. And if you break those conditions, your insurance company could deny your claim or invalidate your policy altogether. Examples include:
Business Use:

Home Insurance isn't business insurance. Whether it's freelance work, childcare, or home counselling, if you run any kind of home-based business, your insurer must be notified.

Poor Home Maintenance: Failure or refusal to maintain or upgrade your house and expecting your insurance company to cover repair costs.

Home-sharing Activities: Leasing or renting out part of your home or offering Airbnb services.
PRO Tip:
Be transparent with your insurance company. Let them know about major changes you've made or are planning to make–renovations, leasing, or even paying off part of your mortgage–especially if they change your home's risk profile and value. Giving more detail actually provides better protection for your home by keeping your replacement costs up-to-date and can even speed up the claims process following a loss.
Plus, some companies offer credits or rebates for upgrades to plumbing, electric, heat, roof, and even security. Provide proof (pictures and/or receipts) and your provider might significantly lower your insurance premiums. You might not get a crazy discount every time, but any price reductions are worth it.
7. See what your broker has to say.
Your home is your most valuable asset and even a partial loss–minor repairs, small break-in, or a slip-and-fall on your driveway–can cause you serious financial and emotional strain. Home Insurance is there to protect you and your family from further hardship. And the better your coverage, the less you'll have to pay-out-of-pocket when disaster strikes.
But when it comes to your policy, the devil is in the details. And who better to read the fine print than your broker? Brokers–like PROLINK–are licensed professionals who know what to look for and what to avoid in a Home Insurance policy. We'll take the time to listen, understand your needs, and compare policies across multiple carriers so you're getting the best-fit coverage for your home and your budget.
Connect with PROLINK to learn more today!
PROLINK's blog posts are general in nature. They do not take into account your personal objectives or financial situation and are not a substitute for professional advice. The specific terms of your policy will always apply. We bear no responsibility for the accuracy, legality, or timeliness of any external content.