Prepping Your Business Property for Winter Slip-and-Falls
December 15, 2020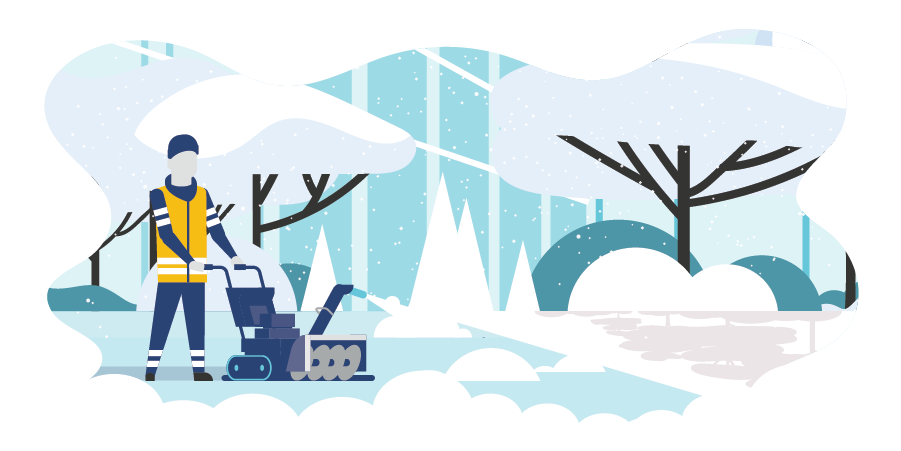 Canadian winters are notorious for being harsh and unpredictable. No matter where you are in the Great White North, extreme cold, heavy snowfall, and ice build-up can wreak havoc on your commercial property. Even a slight drop in temperature and some mild flurries can make surfaces icy, slippery, and downright dangerous for visitors.
Whether you operate out of an office, a warehouse, or even your own home, your business needs to be properly winterized. Plus, as a property owner or a tenant, you're responsible for maintaining your premises and protecting public safety. And while your Commercial General Liability (CGL) Insurance will cover any third-party allegations of bodily injury or property damage, an abundance of claims will decrease your business's value and spike your insurance rates.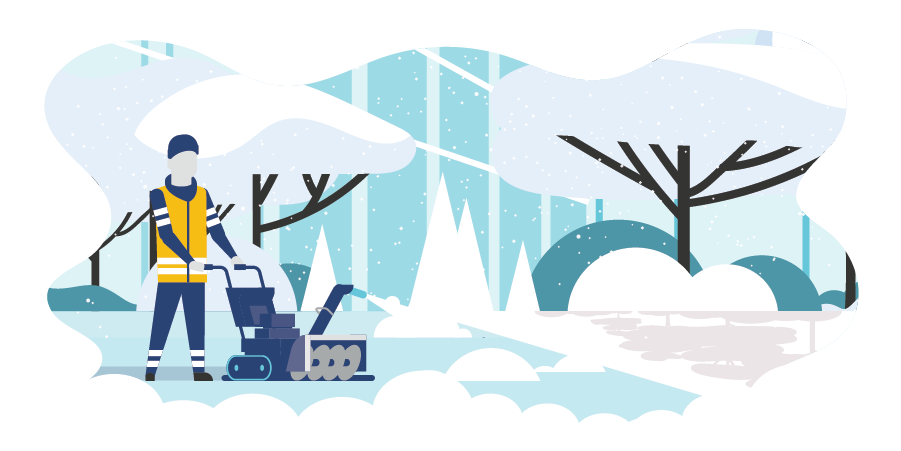 That's why we've put together this slip-and-fall prep guide to help you face even the fiercest of winter days, keep your business safe, and prevent any unfortunate—and potentially costly—injuries.
Disclaimer: The information provided herein is presented from a liability-based perspective to reduce claims of bodily injury only, not property damage. For more detailed advice on how to protect your physical property, click here.
1. Develop a snow preparedness plan.
The best way to prepare for the winter? Plan ahead. Don't wait until there's a major storm to iron out the details. Setting up precautionary measures well in advance can help you avoid property damage, expensive repairs, and unnecessary harm to your visitors.
Additionally, a documented and effective winter maintenance plan can also serve as evidence against a pricey slip-and-fall claim. Personal injury settlements aren't usually made public, but an Ontario law firm reports that slip-and-fall claims related to ice and snow are settled for anywhere between $70,000 and $270,000 on average.
PRO Tips:
By now, you probably know the drill when the temperatures start to plummet—fixing drainage issues, plumbing and HVAC prep, sealing air leaks, and more. But to minimize the risk of injury, be sure to:
Create a slip, trip, and fall prevention plan.

Create a weather emergency plan that accounts for different scenarios, such as winter storms, loss of power, delays in snow removal, and more. Establish safe equipment shut down procedures.

Stash away supplies in case of a power outage (e.g. flashlights, batteries, first aid kits, exterior lighting, etc). Inspect your backup generator or purchase a new one.

Stockpile any necessary snow removal equipment early on (i.e. salt, ice melt, and shovels, snow blowers, etc.).
2. Look into a snow removal service.
Priority areas—like parking lots, walkways, driveways, stairs, entrances, emergency exits, loading docks, and drains—should be cleared regularly. Snow and ice should also be removed from your roof when it reaches over 20 centimetres (8 inches).
If possible, sub-contract a qualified commercial winter maintenance or snow and ice removal company for the whole winter season. A reputable company will map out a tailored plan of attack for your property and determine the best routes, plans, and materials to meet your needs and budget. Some firms might even offer extra services on top of snow plowing, like proactive salting, ice management, and 24-hour weather monitoring.
PRO Tips:
The earlier you sign up, the better. It takes time to set up an adequate snow maintenance plan and most companies fill up their schedules in the summertime or early fall. If you wait until the first snow hits, your chances of securing a reliable company are slim.

Ensure your contractor has Commercial General Liability Insurance and that you're listed as an additional insured on their Certificate of Insurance. Without it, you could be liable if it turns out the operator is at fault for not plowing the snow in time.

Obtain your contractor's Certificate of Insurance and review it with your broker to confirm that their coverage has suitable legal liability. (Learn more about what your broker can do here.)

Sign a written contract or service agreement with your maintenance partner that defines the limitations of liability, services performed, and each party's roles and responsibilities. Your contract should also specify what products are to be used, under what conditions, and to which areas. Have a lawyer review your contract if necessary.
3. Set up a snow maintenance schedule.
If it's not possible, practical, or financially feasible to partner with a maintenance company, you might have to shovel on your own or rely on your staff. If so, follow the tips below.
Clearly define the tasks at hand. Much like a contract, clearly state which areas will be maintained, how often, and what equipment and materials will be used.

Remember to clear all entrances, exits, and stairways before the arrival of other staff and visitors.

Keep a log of all services performed (see item #5 for more detail).

Ensure snow removal and management is part of your company Health & Safety Committee agenda if you have one.

Ensure access to all emergency services remains unobstructed. Aside from emergency exits, stairs, and doors, that also includes: any paths leading to evacuation assembly points; streets, yards, and routes designed for the fire department; and private hydrants or fire department connections.

Don't neglect your interiors—slip-and-falls can just as easily happen inside your commercial property. Keep your floors clean and dry. Hang up warning signs and use high-quality floor mats to control wet surfaces.
4. Install security cameras (or modify your settings).
In 2020, the Ontario Government passed Bill 118, which amends the Occupiers' Liability Act to limit the notification period for slip-and-fall incidents from two years to 60 days. After an incident has occured, an injured party now has 60 days to provide written notice of the claim, including date, time and location, to the occupier or the winter maintenance contractor. Once served, the occupier or contractor must then inform all other relevant parties (i.e. any other occupier or winter maintenance contractors).
This new limit is intended to reduce the number of slip-and-fall cases experienced by business owners and snow removal operators, but keep in mind: injury claims can arise at any time. And a 60 day notice period is still pretty long considering most surveillance video systems automatically delete footage after 30 days.
Plus, courts can still make exceptions as needed. Subsection (6) of the Bill grants judges the ability to waive the notice requirement if there is a "reasonable excuse" for failure to notify within 60 days and the "defendant is not prejudiced in its defence."
PRO Tips:
If you don't already have security cameras outside (or inside) your workplace, consider purchasing them to ensure there's proof of injury in the event of a claim. Video footage of an accident could exculpate you from any potential liability—especially if the claim turns out to be frivolous. Just make sure your system is programmed to preserve footage for at least 60 days in case the court decides to make any exceptions to the notification limit.
5. Keep a log.
We can't stress this enough; when it comes to insurance, proper documentation is key. It might be tedious, but detailed, high-quality notes are your best defence against a claim. In some cases, records alone can stop an accusation from ever reaching the courts.
PRO Tips:
If you subcontract winter maintenance, all instances of service should be documented, including the date, time, and weather conditions that day (here's our suggested template, if you need it). But since snow removal companies usually come by in the early morning or middle of the night, it's a good idea to include a clause in your contract that requires the operator to keep a detailed service log. Ensure that a copy of the log is sent to you weekly for your own records.

Log any complaints or issues you, your staff, or visitors may have with your maintenance company.

If your business is responsible for winter maintenance activities, document: what has been done, when, by whom, and the weather conditions that day. Check with your insurance provider to see if they have an existing snow removal or maintenance log template.

If you're aware of a slip-and-fall—whether you've witnessed it or simply been informed—note it down. Have the complainant or a witness complete a full Incident Report with all necessary details, including contact information, the date, the signature of a manager or employee who witnessed the incident, and any other important information. Take photos of the place where they fell and if possible, the footwear, that the injured party was wearing.

If you need a copy of an Incident Report form, we've got one right here.

Keep documentation for all incidents on-hand for no less than two years. Even though the new deadline is 60 days, it's better to err on the side of caution.

Review your security footage every once in a while for any potential claims. You never know when an accident might have occurred on your property.
6. Get rid of fall mulch.
Tie up any loose landscaping ends, like leaf piles, wayward branches, or dead trees, before the snow accumulates. A slick covering of wet snow, slush, or sleet will quickly turn leaves into a trip hazard. Blizzards and ice storms may send branches crashing down, endangering pedestrians, parked cars, and neighbouring businesses. Gusty winds can easily blow leaves and debris into your drains, causing water back-up, unwanted flooding, or frozen pipes.
7. Secure the exterior.
Winter means decreased daylight…which also means a higher risk of injury since hazards, like cracks, holes, and wet areas, aren't as easily identifiable. To keep your property exterior as safe as possible, be sure to:
Put up visible signage to make people aware of any trip hazards.

If you haven't already, install or update your exterior lighting fixtures to illuminate all walkways properly. Assess your light bulbs and fixtures (maybe biannually or even quarterly) to make sure they're clean and in working order.

If your walkways or parking lots have cracks or potholes, try to repair and seal them before the weather gets bad.

Keep an eye on your roof. Although roofs are generally built to withstand winter weather, excessive snow and ice can create ice dams, which can break off or melt and create slippery walking conditions. If necessary, consult a structural engineer to verify if your roof is under stress due to the snow load.

Establish a safety perimeter to keep people at a safe distance away from any high-risk areas (i.e. trees, icicles, etc.).

Routinely inspect your property for any signs of damage. Update your snow management and safety protocols as needed.
8. Don't forget about your home. 
If you run a home-based business, you're still at risk of a lawsuit. If clients, vendors, or any other visitors are coming into your home for professional reasons—be it for routine services, a last minute accommodation, or just to pick up some files—your business could be liable for any injuries incurred. Even if they're at fault, they could sue you for bodily harm since the accident occurred on your property.
Even worse? While your Home Insurance has personal liability coverage for unintentional harm or damage caused to others, it won't cover you for any commercial visits or harm caused by your business activities.
PRO Tips:
Treat your home-based business with same level of care and maintenance you would any commercial property. Get rid of fall mulch, shovel your driveways and walkways regularly, and document when you do so. If you have a separate entrance for your home-based business, make sure your security cameras are positioned appropriately.
RELATED: Risky Business: How Can You Protect Your Home-Based Business?
Need guidance? Give PROLINK a call. While each commercial building's needs will vary—no two properties are the same after all—with over 40 years of experience, we've seen it all. We'll review your CGL Insurance coverages, share what tips other property owners are taking, and advise you based on your operations and your unique needs so you can weather even the worst of storms.
Connect with PROLINK to learn more today!
PROLINK's blog posts are general in nature. They do not take into account your personal objectives or financial situation and are not a substitute for professional advice. The specific terms of your policy will always apply. We bear no responsibility for the accuracy, legality, or timeliness of any external content.