Dodge white-knuckle driving this season!
November 18, 2018
How to prepare your car for our trademark Canadian winters:
In general, Canadian weather is flakey, but winter takes it to a new extreme: snowflake-y. One minute it will be clear and bright, and the next minute roads turn into a slip-and-slide.
Canada: land of snow falls, snow squalls, and full-fledged blizzards. Snowy and icy conditions can test even the most seasoned driver.
Here's how you can equip your car for safer driving through the winter season: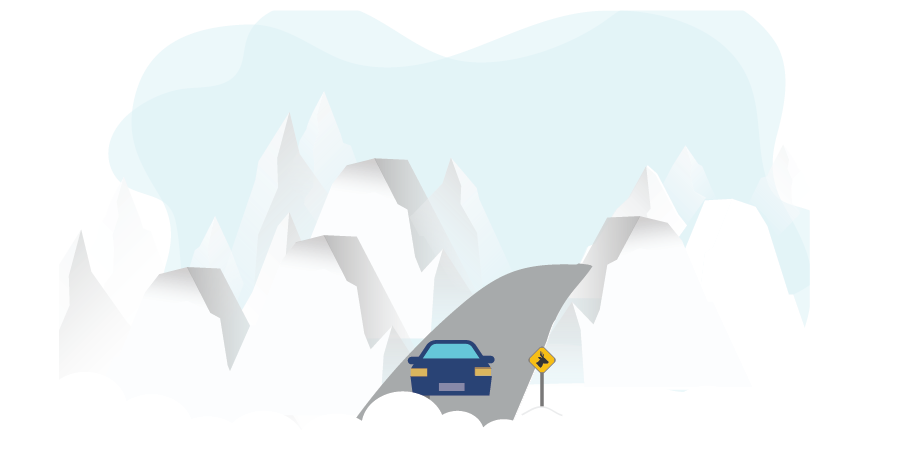 Winter Tires
Your car should have winter tires as soon as the temperature gets below 7°C. Before you roll your eyes & ignore our advice, consider the fact that in places like Germany when winter tires became mandatory, accident rates decreased by 50%. Plus, having winter tires from November to March will qualify you for a discount on your Auto insurance! When choosing your tires, look for the Alpine symbol and get a set of four for greater security.
Windshield Wipers
Replace worn-out windshield wipers with heavier blades. They will make it easier to remove snow & ice. Ensure that your washer fluid has anti-freeze & always keep a spare bottle on hand in case you run out. Finally, take the time to clean snow off your car, even when you're running late. Being able to see properly will help keep you & other drivers safe on the road.
Winter Tune-Up
Many mechanics offer a winter tune-up special around this time of year. You should ensure that they check your break pads, fluids, battery, engine, sensors, & lights. This way, you'll have peace of mind knowing that your car is well-equipped for the road ahead.
Emergency Kit
Anyone who's ever been stuck in the snow knows that an emergency kit is a necessity in the winter. Stock yours with: a shovel, ice scraper, sand or a mat in case your tires need traction, jumper cables for your battery, blankets, flashlight, first aid kit, inflated spare and enough clothing to keep you warm.
Last But Not Least: Auto Insurance
Accidents can happen despite your best efforts. And when they do, you'll want to know that you and your car are fully protected. At PROLINK—Canada's Insurance Connection, it's our job to explain your coverages and your exposures, so that you can make an educated decision knowing all the benefits and any risks.
PROLINK's blog posts are general in nature. They do not take into account your personal objectives or financial situation and are not a substitute for professional advice. The specific terms of your policy will always apply. We bear no responsibility for the accuracy, legality, or timeliness of any external content.