The 12 Risks of the Holiday Season
November 25, 2021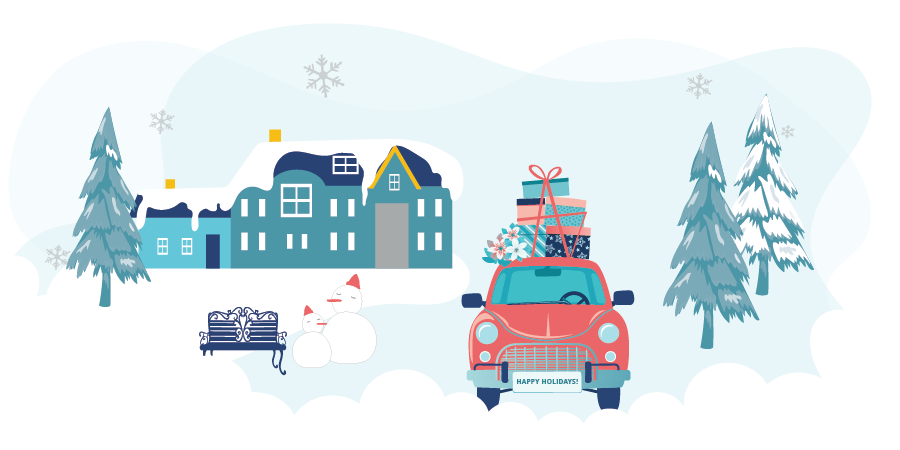 The holidays are a hectic time. Between the icy roads, ten-foot Santas, deep-fried turkeys, and more, there's plenty that can go wrong—and safety isn't always top-of-mind for everyone. Luckily, most holiday mishaps can be avoided with a few extra precautions. Before you start gift shopping or planning parties, check out our 12 risks of the holiday season to help you keep your home, your car, and your family safe.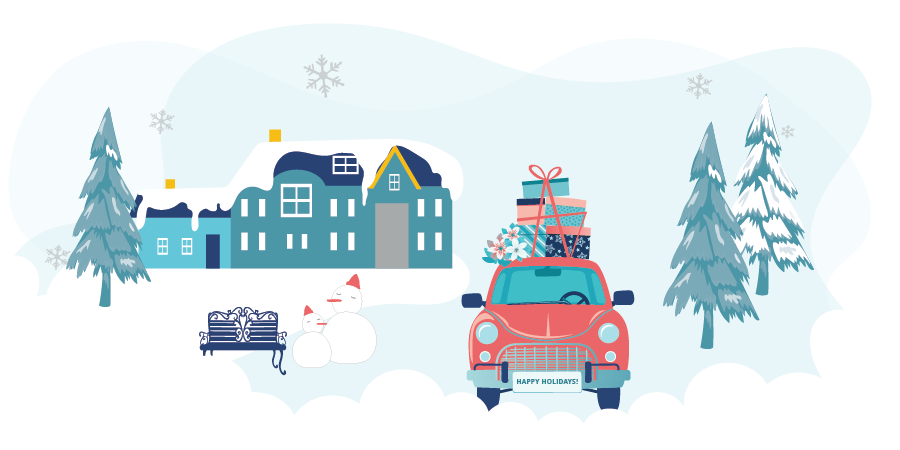 12 Blizzard Warnings
THE RISK: Even if the damage isn't immediate, melting snow and ice can still wreak havoc on your home over time. And since your Home Insurance is only meant for emergencies, you won't be covered for the repairs if a slow leak from a storm goes unnoticed and causes mold, wall cracks, or a sinking roof down the line.
PRO Tips: Inspect your basement, attic, roof, foundation, and deck for signs of wear and water damage. Repair as needed. Clear your gutters, eavestroughs, and downspouts of any blockages so they drain properly.
RELATED: 12 Things You Shouldn't Ignore Before Buying a Home
11 Fires Kindling
THE RISK: Stray candles, increased cooking time—and distractions—and dry Christmas trees make fire one of the leading causes of Home Insurance claims around the holidays.
PRO Tips: Don't leave cooking food, lit candles, or lit fireplaces unattended, even if you have guests over. Clean off extra grease to avoid flare-ups and keep a fire extinguisher on hand just in case. If you have a live Christmas tree, keep it watered and don't decorate it with lit candles. Ensure all trees are stationed at least three feet away from any heat sources or open flames.
10 Wires Fraying
THE RISK: While flashy ornaments and outdoor lights keep your home merry and bright, they can also seriously damage your electrical systems if they're not put up or plugged in properly.
PRO Tips: Don't use indoor extension cords outside; they're not built to withstand temperature changes and could quickly overheat or catch fire. Use a surge protector to avoid power overload and look for cords and bulbs that are appropriately rated for exterior use. Install smoke alarms and carbon monoxide detectors if you haven't already—you might even get a discount if you do.
9 Cars-a-Drifting
THE RISK: Even if you're not doing donuts in a parking lot or drifting with your friends, a heavy foot or an abrupt stop could cause you to lose traction and skid. And whether or not it's an accident, you could still be charged under Ontario's new stunt driving laws.
PRO Tips: Adjust your speed to account for lower traction when driving. Get your car tuned up for the winter and see if your brake pads, wipers, sensors, and lights are working properly. If you haven't already, install winter tires once the weather drops below 7°C; they'll provide better control on the roads and they'll get you up to 5% off your auto rate.
8 Pipes-a-Bursting
THE RISK: As the temperatures plummet, your pipes might begin to freeze. And if the water has nowhere to go, they could burst from the pressure.
PRO Tips: Before it gets too cold, turn off and drain any outdoor water lines. For indoor pipes, keep the thermostat to at least 18°C day and night. Seal any cracks that allow cold air in and add insulation to your attic, basement, and crawl spaces to conserve heat. If you live in an older house, leave a cold water tap, like the bathtub faucet, dripping when the weather drops below 0 so that the water continues to run.
7 Basements Flooding
THE RISK: Flooding has become a bigger holiday risk in recent years with warmer winters across the country. And while your homeowners policy will cover flooding from a burst pipe or an overflowing appliance, it won't kick in for any damage caused by water that enters your home from the outside, whether that's from a snowstorm, melting ice, or heavy rainfall.
PRO Tips: To protect against the risk of flooding, consider the following add-on endorsements to your Home Insurance:
Overland Flooding Coverage: Protects your home from damage caused by water that originates outside of your home, like overflowing bodies of water, snow runoff, and rain, snow, and ice accumulation that's too much for drainage or sewer systems.

Sewer Backup Coverage: Covers damage caused by water and sewage moving up through drain lines into your home, like backup or discharge from a septic tank or mainline city sewers.
RELATED: When It Rains It Pours: 4 Weather-Related Coverages You Might Not Know You Need
6 Missing Cars
THE RISK: Longer nights during the winter months give criminals more opportunities to target keyless cars in overnight auto thefts. How? Since most people leave their keys by the front door, thieves can easily amplify the fob signal with an electronic device, relay it back to the vehicle, and drive off.
PRO Tips: Store your keys in a secure location, like a Faraday bag or a metal container that will block the relay signal. Additionally, theft isn't included in basic auto policies, so don't forget to review your limits and make sure you have enough if your car is stolen or damaged in a break-in.
RELATED: Keyless Car Thefts Are on the Rise: 10 Tips You Need to Know
5 Stolen Rings
THE RISK: Got your eye on a fancy gift this season? Keep in mind: basic homeowners policies only insure personal property up to a specific limit—usually $2,000—in case of damage or theft.
PRO Tips: Store any exceptionally valuable items, like jewelry, electronics, musical instruments, sports equipment, and more, somewhere safe and keep a detailed home inventory with photos, descriptions, and receipts. If the value of your items exceeds the limits on your Home Insurance, consider an endorsement for specialty items or a separate policy altogether.
RELATED: Do's and Don'ts For Protecting Your Valuables, Holiday Gifts, and More
4 Slip-and-Falls
THE RISK: Dreaming of a winter wonderland? Well, you'll have a blue Christmas if a guest, a neighbour, or other visitor slips on your property and sues you for any injuries incurred.
PRO Tips: Shovel regularly and salt your sidewalk, walkway, and driveway. Remove icicles above doorways. If you don't get a lot of snow or ice where you are, remember to clear up any wet leaves. If you have elaborate holiday decorations, confirm that there are no trip hazards. And finally, make sure there's sufficient exterior lighting so people can see where they're going.
3 Lost IDs
THE RISK: While there's no denying the convenience of online shopping, it's also one of the easiest ways for fraudsters to compromise your credit card information.
PRO Tips: When shopping, be sure to only use secure and reputable websites (those with https). Avoid using public Wi-Fi and always logout after you've completed your purchase. Be wary of any official-looking emails that request personal information—they could be phishing scams. Monitor your bank accounts regularly to ensure there's no suspicious activity.
For good measure, consider Cyberboxx™: Home Edition, a comprehensive home cyber insurance plan that'll provide you with incident response, data recovery, and identity restoration services in the event your personal information is compromised. Cyberboxx™: Home Edition also offers coverage for a variety of personal cyber threats, including: cyber extortion, cyberbullying, lost wallet assistance, and more. Learn more here.
2 Vacant Homes
THE RISK: With border restrictions opening up, many people are itching for a winter getaway after a long time indoors. But a noticeably vacant home is a prime target for break-ins and burglars.
PRO Tips: Avoid sharing your travel plans (and your valuables) on social media. Before leaving, confirm that you've locked all points of entry to your home. Ask friends or neighbours to check on your property while you're away and keep your mail from piling up. Leave your porch lights on and reduce your heat to 18°C; shutting it off altogether will increase the likelihood of your pipes freezing. Plus, if your pipes burst because you turned the heat off, any Home Insurance claims you make will be denied. Why? Insurance companies require you to maintain normal heating across all seasons for burst pipe claims to be covered.
RELATED: 4 Ways You Can Protect Your Home While You're On Vacation
The holidays are a time to be with friends and family. To celebrate how far you've come in the last year. To let your hair down, relax, and take a moment to breathe. The last thing you need is an unexpected and costly accident to put a kink in your plans.
Whether you're celebrating, taking some time off, or going about business as usual, we hope you have a wonderful, safe, and happy holiday season. And if you have any questions about holiday risks—and how you can protect yourself—give us a call. As a licensed broker, we can help you review your coverage for any gaps, plan ahead, and stay on top of any hazards no matter the season.
Connect with PROLINK today to learn more!
PROLINK's blog posts are general in nature. They do not take into account your personal objectives or financial situation and are not a substitute for professional advice. The specific terms of your policy will always apply. We bear no responsibility for the accuracy, legality, or timeliness of any external content.