When It Rains It Pours: 4 Weather-Related Coverages You Might Not Know You Need
September 28, 2021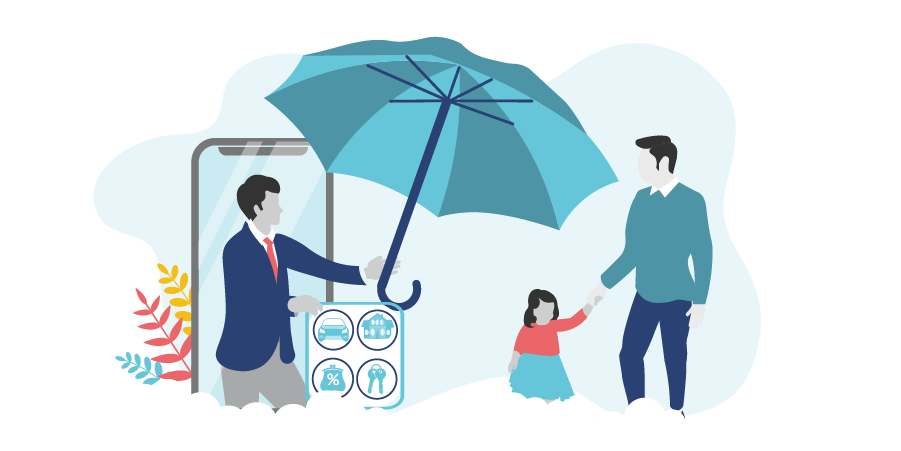 Homeowners are feeling the effects of climate change now more than ever. Record-breaking numbers of severe weather events have caused property repairs to skyrocket in recent years. Some of the biggest culprits? Wildfires, thunderstorms, and tornadoes.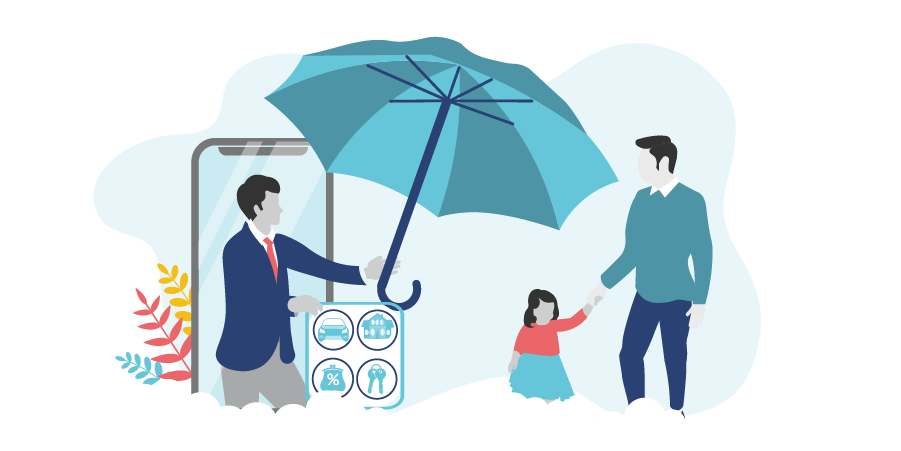 People are counting on their Home Insurance to bail them out. But the truth is: when it rains, it pours. While most standard policies cover damage from rain, snow, hail, wind, and fire, there are some pretty major exclusions that could leave you on the hook for thousands in repair costs following a storm.
After the hot and stormy summers we've had, it's a good idea to refresh just exactly what's covered by Home Insurance—and what's not. Keep reading to learn more about the biggest weather-related gaps in your homeowner's policy and how you can protect yourself.
1. Flooding
THE GAP:
Although Home Insurance will cover flooding from a burst pipe or water leak, it won't apply to any damage caused by water that enters your home from the outside, whether that's from an overflowing river, a flash flood, or your own lawn sprinkler. This is a huge and potentially costly exclusion for all homeowners, especially anyone that lives in a valley, flood plain, or on a sloped property.
But you don't need a torrential downpour or widespread flooding to see a hefty repair bill; on average, a flooded basement costs about $43,000 to fix. Even a few inches of water from melting snow or ice can pool around houses, flow into basements, and quickly destroy your drywall, flooring, and furniture. Fun fact: that's exactly how Calgary's 2020 hailstorm led to losses of over $1.2 billion after heavy flooding throughout the city.
PRO Tips:
Most types of flooding can be insured with a few add-on endorsements to your existing homeowners policy, such as:
Overland Flooding Coverage: Protects your home from damage caused by water that originates outside of your home. That includes: overflowing bodies of water, torrential rainfalls, snow runoff, and rain, snow, and ice accumulation that's too much for drainage or sewer systems (like the floods caused by Toronto's massive storm in 2013).

Sewer Backup Coverage: Covers damage caused by water and sewage moving up through drain lines into your home, like backup or discharge from a septic tank or mainline city sewers. Sewer backup coverage is the only way to protect your basement from water damage that isn't from a hot water tank leak.
RELATED:  April Showers Bring May Flowers…And May Floods Too.
2. Mold and Pest Infestations
THE GAP:
Flooding isn't the only type of water damage you have to worry about. Unchecked leaks, water-soaked materials, and concealed water stains can trap excess moisture, spur mold growth, and attract termites or other pests. And if a slow leak goes unnoticed and causes your deck to rot or your foundation to crack over time, there's no coverage that'll reimburse you for the repairs.
Why? Home Insurance is meant for one-offs—unexpected or unintentional accidents or emergencies like a fire, broken window, or a burglary. It won't kick in for any damages that are the result of neglect or poor maintenance, like continuous water seepage, mold, pest infestations, or any general wear and tear.
PRO Tips:
For maximum protection, be sure to properly maintain your home. Clear your gutters, eavestroughs, and downspouts of leaves, dirt, debris, and other blockages so that water drains off the roof freely. Check to see if your sump pumps and backwater valves are working well or install them if you haven't already. A backwater valve could be your last chance against a flooded basement—and it may even certify you for a discount on your Home Insurance.
Routinely inspect areas of your house—interior and exterior—that are susceptible to water buildup and mold, like your basement, attic, roof, foundation, siding, and deck. Make repairs as needed. Keep your backyard and basement floor drains clear of any obstructions. Be diligent and vigilant. With regular upkeep, you can avoid any costly, hidden surprises down the line.
3. Earthquakes
THE GAP:
Did you know that Canada experiences over 4000 earthquakes every year? Although most of them are too small to be felt, even a moderate tremor has the potential to devastate communities in earthquake hotspots, such as Western Canada, the Ottawa and St. Lawrence Valleys, and New Brunswick. That puts some of Canada's biggest cities, like Vancouver, Victoria, Ottawa, Montreal, and Quebec City, at high risk of significant destruction. In fact, most experts agree that a major quake—one that could topple buildings and tear open streets—is near inevitable in British Columbia, the most seismically active region in Canada, sometime in the next 100 years.
When will it hit? It's impossible to say. One thing's for certain though: when it does, your Home Insurance won't be enough to cover you. While standard policies will respond to fire, explosion, or smoke that results from an earthquake, they specifically exclude damages from "earth movement."
PRO Tips:
If you live in or near a known earthquake zone, like any of the cities listed above, you might be able to get an endorsement for earthquake insurance. This protection will cover direct physical losses to your home and contents, as well as additional living expenses, like temporary accommodation, food, and transportation costs, if you're unable to return to your home due to the damage.
4. Valuable Items
THE GAP:
Home Insurance covers personal property (like your furniture, furnishings, and appliances) up to a particular limit. But that doesn't mean every item under your roof is automatically insured; there's always a cutoff for exceptionally valuable or specialty items over a certain dollar amount, usually about $2,000.
That means some of your most expensive possessions are sitting at home completely unprotected—and we're not just talking about antiques, fine art, and jewellery. Valuables can also be less obvious items you use everyday, like your electronics, computers, designer clothes, musical instruments, state-of-the-art appliances, medical devices, collectibles, family heirlooms, bicycles, sports equipment, and more. And without extra insurance, you risk having to pay for them twice.
PRO Tips:
Store your important items and documents in structurally sound water- and/or fireproof containers on the highest level of your home to reduce the likelihood of damage. Keep a current and detailed personal inventory of your home and valuable possessions and collectibles. Include photos, videos, descriptions, dates purchased, and receipts, if possible.
If the value of your items exceeds the limits on your Home Insurance, consider an endorsement for specialty items or a dedicated personal property or valuable items policy altogether. In a standalone policy, you can even customize your coverage to the specific items you own, such as jewelry breakage or spoilage for wine and spirits due to temperature changes.
RELATED: Do's and Don'ts For Protecting Your Valuables, Holiday Gifts, and More
The reality is: most people avoid thinking about the coverage they need until after they need it. Or maybe they just don't know what they need. After all, you don't know what you don't know. But with storms increasing in size, magnitude, and frequency across the board, taking the time to understand what your policy covers—and what it doesn't—can make all the difference in the middle of a crisis.
If you're worried about the added cost of extra endorsements, keep in mind: you might be able to secure a lower premium if you're not in a high-risk area. And even if you are, or if your insurance provider doesn't offer coverage for flooding, earthquake, or valuables, you can always work with a broker to shop around and find the right add-on at the right price for your budget.
A licensed broker like PROLINK can also help you keep a weather eye out for gaps in coverage and periodically review your policy to ensure you're protected for the best value. And to make sure you're truly disaster-ready, we'll even share the top tips and tricks to help you maintain your home, manage your exposures, and stay on top of any hazards that could lead to a loss.
Connect with PROLINK to learn more!
PROLINK's blog posts are general in nature. They do not take into account your personal objectives or financial situation and are not a substitute for professional advice. The specific terms of your policy will always apply. We bear no responsibility for the accuracy, legality, or timeliness of any external content.