How to Storm-Proof Your Home
June 25, 2021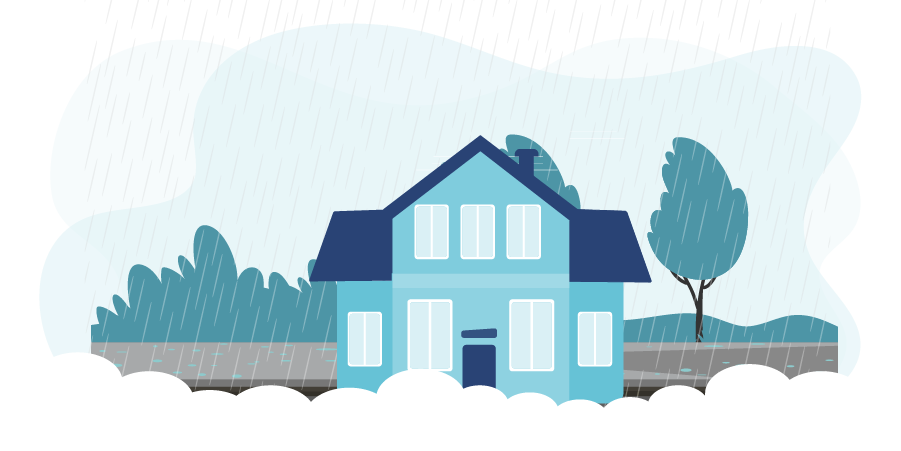 When it comes to summer, storms aren't exactly top of mind for most people. But the truth is: storm season is far from over. And a hot and dry summer can cause just as much property destruction as a blizzard or an ice storm. High humidity, and dry, scorching heat can lead to a number of harsh weather conditions, like heavy rainfall, hailstorms, lightning strikes, windstorms, wildfires, and more, that can wreak havoc on your home, your wallet, and your insurance premiums.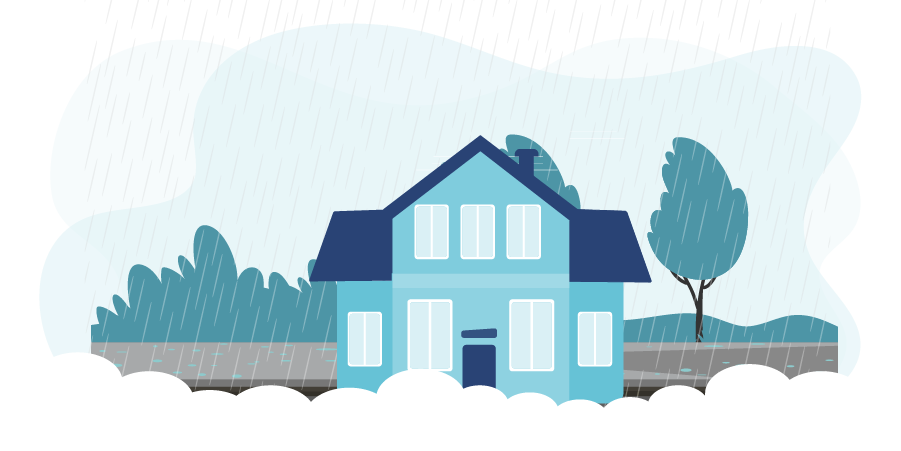 That's right, beyond the immediate damage of a storm or a fire, you'll also have to deal with the long-term effects of a weather event on your insurance, even if you didn't file a claim yourself. Even worse? With climate change fuelling more extreme weather events than ever before, storms—and property damage claims—are on the rise across the country.
Although you can't control a flash flood or stop a fire in its path, there are some precautionary steps you can take to keep your property, your home, and your family safe and your insurance costs low. Keep reading to learn more.
How do severe weather events affect insurance rates?
Extreme weather events are becoming more and more common due to global warming. With the exception of three events, most of Canada's top 10 natural disasters have occurred in the past 10 years. Storms are increasing in size and magnitude and with them, Home Insurance claims. Combined with the rising cost of building materials, increased housing demand, and a shortage of skilled labour, home repair and replacement expenses have jumped in recent years, drastically affecting insurance payouts.
According to the Insurance Bureau of Canada (IBC), severe weather losses in Canada averaged about $1.9 billion a year from 2009 to 2019 compared to average of $422 million a year from 1983 to 2008. And in 2020, losses nearly doubled; weather disturbances caused $2.4 billion in losses, up from $1.4 billion in 2019.
As claims rise in frequency and cost, insurance companies are increasing premiums to cover properties with increased risk. That means if you live in a storm zone or on a floodplain, you may struggle to secure affordable coverage, or any coverage at all, simply because the likelihood of an event is too high in your area.
Even if you don't live in a vulnerable area, filing more property damage claims following a storm might boost your risk profile in the eyes of your insurer. And the riskier your property, the more they'll charge.
RELATED: Here's Why Your Insurance Rates Keep Increasing For No Good Reason
How to Storm-Proof Your Home:
Whether it's rain, wind, fire, or more, the tips below will help you minimize the extent of the damage and prevent a loss.
Thunderstorms
Thunderstorms might be a regular occurrence throughout Canada, but that doesn't mean they don't pack a punch. Heavy rainfall, gusty winds, and lightning strikes pulling trees with shallow root systems out of the ground. A sudden downpour can lead to mudslides, flash floods that develop in minutes, or overland flooding from rivers and streams that carry mud, rock, and other dangerous debris. Powerful thunderstorms may even produce hail that pummels cars, windows, roofing, and siding. In fact, Calgary's 2020 summer hailstorm had hailstones the size of baseballs, resulting in insurance losses of around $1.3 billion.
Thunderstorms thrive on humidity, moisture, and warmth. And with most of Canada experiencing hotter-than-normal temperatures in summer the last few years, we've been seeing a more active storm season every year.
But that's not the only storm threat for homeowners. Because of climate change and rising ocean temperatures, meteorologists are also predicting heightened hurricane risk, with stronger hurricanes making landfall further north. And the more intense the hurricane, the more speed it'll gather, and the farther inland it'll travel.
While the remnants of tropical storms can sometimes be felt as far west as Ontario, Atlantic Canada has historically suffered the greatest impact from hurricanes. In 2010, excessive rain, coastal flooding, and winds up to 150 km/hr from Hurricane Igor cost $56.13 million USD in insured losses in Newfoundland. More recently, Hurricane Dorian made landfall as a post-tropical cyclone near Halifax in 2019, causing wind and flood damages of up to $122.15 million USD.
Losses may be even worse going forward, since the Maritime provinces have had a population surge with more people moving in from Ontario and Quebec during the pandemic. And people that have newly relocated may not be aware of risk or adequately prepared for the season ahead.
PRO Tips:
Flooding and water damage are among the leading causes of property claims in Canada. They're also the most expensive; the average cost of a flooded residential basement is well over $40,000. In addition to flooding and hail, water runoff from storms can create smaller, hidden water leaks or seepage that trap excess moisture, spur mold growth, and attract termites and other pests over time. That means keeping your home dry—and keeping moisture out—is critical to avoid any unchecked minor issues that'll escalate into a major problem down the line. Be sure to:
Conduct a thorough risk assessment of your property. Identify internal and external sources of water and any areas susceptible to water damage and work to repair them.
Clear your gutters, eavestroughs, and downspouts of leaves, dirt, debris, and other blockages so that water drains off the roof freely. This is key if there are trees close to your home—tree leaves and needles can build up quickly. Make sure your downspouts are extended at least six feet away from your home to stop water from seeping into your foundation.
Use a rain barrel to catch runoff.
Check to see if your sump pumps and backwater valves are working well or install one if you haven't already. A backwater valve could be your last chance against a flooded basement—and it may even certify you for a Home Insurance discount.
Inspect your roof for loose shingles and cracked tiles that hold moisture. Replace shingles and seal cracks as needed.
Regularly check your attic for water stains, leaks, or sagging to make sure it's still standing strong and won't collapse during a storm.
Inspect your foundation and siding. Repair any cracks and holes as needed.
Consider hurricane-resistant defenses, like truss tie-downs (also known as hurricane straps) to strengthen your roof against strong winds or storm shutters for your doors and windows. If storm shutters aren't an option, you can try putting sheets of plywood over your windows and doors before a storm hits.
Keep your basement floor drains clear of any obstructions. Install covers that protect basement window wells from accumulating water. Avoid storing valuables and important documents in the basement, as well as hazardous materials like paint, bleach, and other cleaning supplies. If there's a flood, they might leak, release toxic fumes, or contaminate the water.
Install fire alarms and carbon monoxide detectors. Make sure they have batteries and are working properly—the alarms will alert you if a fire starts due to a lightning strike.
Consider installing a lightning rod on your roof to help prevent power surges and outages (and damage to sensitive electronic devices as a result) from lightning strikes.
RELATED: 12 Things You Shouldn't Ignore Before Buying a Home
Windstorms
In a windstorm, wind speeds typically exceed 55km per hour, strong enough to blow shingles off of your roof, topple trees, knock down fences, take out power grids, and lift up loose items and turn them into dangerous projectiles. Tree branches, patio furniture, and unsecured construction materials blowing in a storm can be lethal and have potentially fatal consequences if they hit something or someone. And if you live in Southern Ontario, Quebec, Atlantic Canada, or the prairies, it's not uncommon for high winds to spiral into a tornado and cause widespread destruction.
Windstorms are happening more often all over the country. Here are just a few examples:
In May 2018, a storm in Ontario cost $380 million in insured damage.
In December 2020, a windstorm hit the Greater Toronto Area, Hamilton, Niagara, Muskoka, and the Lake Erie and Lake Ontario shorelines, resulting in $87 million of insured damage. Wind speeds reached over 100km per hour, with localized downpours leading to severe lakeside flooding. In Georgetown, a tornado touched down with wind speeds at 135km per hour.
In March 2021, a powerful windstorm left thousands in Vancouver in the dark as trees took power lines out.
In May 2021, a tornado touched down just 40km outside of Montreal, destroying over 75 homes.
PRO Tips:
Maintain your roof. Routinely replace any loose or lifting shingles. Consider having your roof annually inspected by a professional.
Secure your doors. Install extra bolts, locks, and other heavy-duty hardware to keep them in place so they're not easily displaced by wind damage.
Repair and reinforce any loose parts or sections on your fence to prevent them from being lifted up and thrown against the house.
Secure everything else. Check the pool, deck bannisters, house shutters, furnishings, and all other exterior fixtures to ensure they're firmly attached to the ground.
Landscape your property. Trim your trees and shrubs so they don't touch your house or nearby power lines. Dead or dying trees are likely to crack or blow over so cut them down before they do any damage.
Before erecting any new structures, like a garden shed, confirm that they're rated for the wind and storm conditions in your area and are properly anchored to a foundation.
If high winds are in the forecast, put away all loose objects such as outdoor furniture, BBQs, hanging baskets, standalone planters, pots, garbage cans, sports equipment, slides, swings, and toys. Anything left in the yard can become flying debris.
Remember to close all basement windows and crawl space vents before a storm.
Here's an auto tip: avoid parking your car near trees, street lamps, power lines, or even in your driveway—it's more likely to be struck by flying shingles or branches. If you can, park your vehicle in a garage or carport.
Wildfires
Wildfires are unpredictable, difficult to contain, and often deadly. They consume everything in their path and pose a huge threat to homeowners who live near forests, field areas, and grasslands. Note: Alberta, Manitoba, Saskatchewan, and Ontario get heavy fire in the spring; BC's wildfire season doesn't start until August.
Wildfire conditions have been especially concerning in recent years, as hot and dry summers with below normal rain levels become the norm across the country. Heat waves and extended periods of dry weather typically mean a more active forest fire season and poor air quality for areas downwind of the fires that last for months afterward.
Even without dry heat, temperate areas and regions that are still expected to have adequate rainfall could still experience forest fires caused by thunderstorms and lightning strikes. Lightning-caused fires happen in remote areas and tend to occur in large clusters that may overwhelm fire authorities. Why? It takes time to report and then reach them and hot, dry, and windy days may exacerbate the flames. These fires may also create more damage since people who live in temperate conditions may not be anticipating them and are unlikely to be prepared.
PRO Tips:
Wildfires spread fairly quickly, but there are many precautions you can take to fireproof your home or cottages, including:
Maintain your lawn. Rake up dry twigs, dead leaves, and other flammable items in your front and backyards. Cut back the grass and vegetation on your land. Avoid planting evergreen trees with cones and needles by your house since they're highly flammable.
If you can, create a zone of protection and ensure the area within ten metres of your home is free of combustibles.
Upgrade your roof, doors, and siding with fire-resistant materials, such as fire-resistant shingles, tempered glass windows, fibre-cement siding, and a spark arrestor on your chimney.
Avoid building campfires when the weather has been exceptionally dry.
Don't smoke in fire hazard areas and don't throw lit cigarettes from your car. Dry grass can easily catch fire from smouldering cigarettes.
General Storm Prep
Extreme weather events usually arrive with little warning. But no matter where you live or what storms you face, the following steps are a good idea to prepare in advance.
1. Take care of your home.
Sure enough, good old regular home maintenance is one of the best ways to protect your property. Taking care of the normal wear and tear on your home means you won't be running around trying to get it all done before a storm arrives. And even if the storm doesn't hit, your property will look better and you'll be keeping up its value.
2. Protect your valuables.
Store your important items and documents (i.e. legal and financial papers, mortgage papers, birth certificates, marriage licenses, wills, etc.) in structurally sound water- and/or fireproof containers on the highest level of your home to reduce the likelihood of damage. Keep a current and detailed personal inventory of your home and valuable possessions and collectibles. Include photos, videos, descriptions, dates purchased, and receipts, if possible. For good measure, you can also send a copy of your inventory to a family member outside of your region for safekeeping (or store a copy on a USB drive).
We know it sounds time-consuming, but a few hours of inventory work can help you secure the right amount of contents coverage for your belongings and save you hundreds of dollars in replacements. If necessary, consider a "floater" or extra endorsement to supplement your coverage on costly items.
RELATED: Do's and Don'ts For Protecting Your Valuables, Holiday Gifts, and More
3. Protect your data.
In addition to your important papers, you should protect your digital records. Invest in an external hard drive and backup your data regularly. Scan and store a copy of your important documents on your hard drive as well.
4. Stay informed about the weather.
Do your homework. If you live in a storm-prone area or a fire zone, learn about the conditions favourable to severe weather events. Be familiar with your community's disaster preparedness plans and evacuation routes. Monitor Environment Canada's public weather alerts or local television and radio stations for updates and evacuation notices.
5. Stock a basic emergency kit.
Keep an emergency kit on hand just in case your gas, water, and electricity are shut off for a few hours or even days following a storm. An emergency kit should contain enough materials to carry you and your family through at least three days, including: water (a gallon per person per day), non-perishable food items, a battery-powered radio, extra batteries, a flashlight, candles, a first aid kit, local maps, cash, blankets, toiletries, and any special needs items, like prescription medications. Store your kit in a safe place in your home and remember to restock your kit once the emergency has passed.
6. Create a family emergency plan.
There's always a possibility you may need to evacuate the area if a storm gets too bad. Before a storm occurs, sit down with your family and create a 72-hour emergency preparedness plan. Make sure everyone knows what to do, where to meet, and how to get there if you're separated when disaster strikes. If you have pets, factor them into the evacuation plans as well. Have a grab-and-go bag with the essentials and leave it close to your front door.
7. Review your insurance policy.
Examine your policy for any weather-related gaps in protection. Taking the time to understand what your Home Insurance covers—and what it doesn't—can make all the difference when you need it most. Will you be covered if there's a flood? Are all dwellings on your property included? What about your personal belongings? Many policies have exclusions and you might need extra endorsements or separate coverages to be fully protected.
While most standard policies insure losses from rain, snow, hail, wind, and fire, they exclude damage caused by:
Poor home maintenance (including damage from a slow leak, seepage over time, and any subsequent mold or fungal growth or pest infestations);
Weather-related flooding;
Sewer backup or any overland water that enters your house from the outside, even if it's from your own lawn sprinkler or exterior appliances; and
Acts of God (natural disasters or catastrophic weather events, like an earthquake or a hurricane).
However, you can still purchase add-ons for:
Overland Flooding Coverage to protect your home from lake or river overflow or ice or snow accumulation that's too much for drainage systems. This coverage also includes rain accumulation where the sewer systems can't drain fast enough.
Sewer Backup Coverage for damage caused by clogged drains in your home (sinks and toilets) and overflowing city sewers that back up into your home. Sewer backup coverage is the only way to protect your basement from water damage that isn't caused by a hot water tank leak. And if your home isn't located in a high-hazard area, you might even get it for a cheaper rate.
RELATED: April Showers Bring May Flowers…And May Floods Too
8. Work with a broker.
The best way to secure the right policy is by calling in an expert, so if you're not sure what coverages you have or need, give your insurance broker a call. Brokers can offer valuable advice to help you determine your home's value, proactively manage your exposures, and understand your policy options. They'll also shop the market on your behalf to make sure you're getting the protection you need at the price you deserve.
Prepping in advance and knowing exactly how you're covered could very well be the difference between a quick recovery or a costly disaster. Plus, being storm-ready won't just save you valuable time if a storm or fire is headed your way, it'll also allow you to identify and stay on top of any hazards that could lead to a loss. That means fewer big repairs over time and fewer property damage claims on your insurance, which will have the domino effect of keeping your rates low.
For more guidance, connect with PROLINK! As a licensed broker, we can help you plan and protect to weather any storm. Whatever the season, we can coach you through the process of buying insurance, teach you how to save, and review your coverage periodically to ensure you're protected for the best value.
PROLINK's blog posts are general in nature. They do not take into account your personal objectives or financial situation and are not a substitute for professional advice. The specific terms of your policy will always apply. We bear no responsibility for the accuracy, legality, or timeliness of any external content.