Security Awareness Training: What is it, Best Practices, & More
July 4, 2022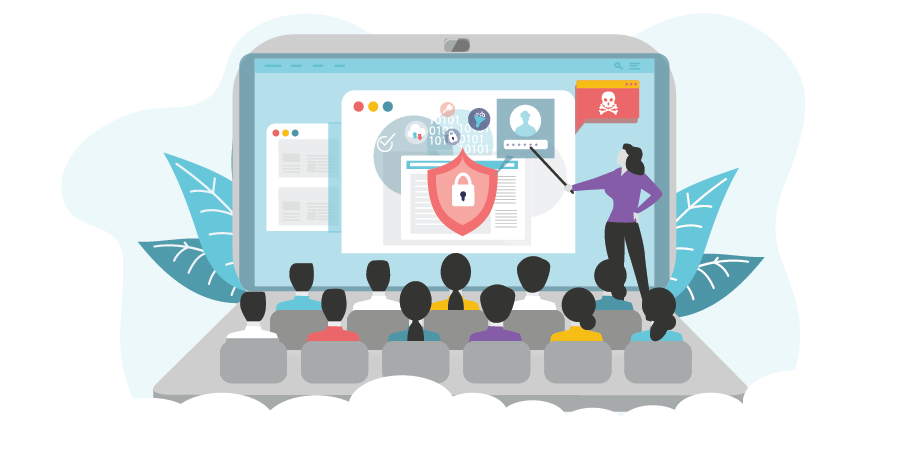 Human error is one of the leading causes of privacy breaches. According to Netwrix's 2020 Cyber Threats Report, insider threats are now more common than external ones, with 4 of the top 6 risks caused by internal users, including: accidental mistakes by admins (27%), improper sharing of data (26%), misconfiguration of cloud services (16%), and data theft by employees (14%).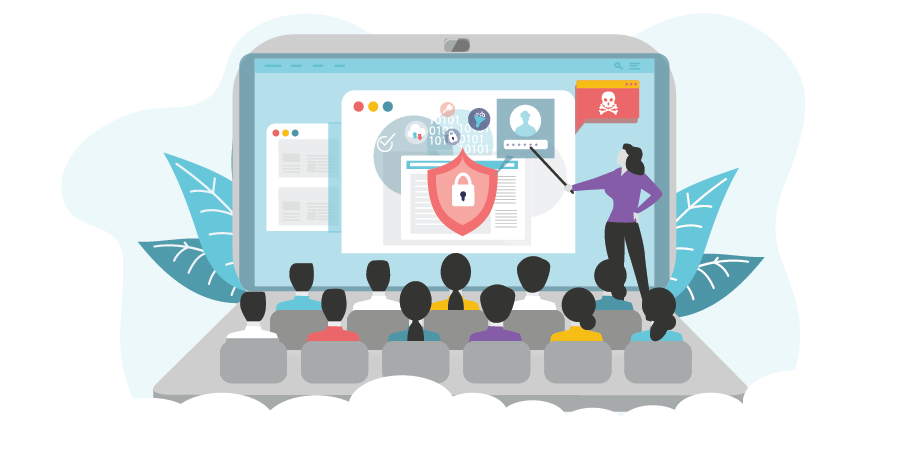 The rise of remote work has compounded these issues. With everyone working far away from the direct oversight of IT teams, even your most seasoned employees might be less vigilant about installing software updates, maintaining password hygiene, or using a secure connection. Alternatively, they might simply be unaware of how to handle sensitive data or even recognize the signs of a scam.
But whatever the reason, security shortcuts by uninformed or irresponsible employees can leave the door wide open to malicious threat actors looking to steal data or infect your networks with ransomware. How can you protect yourself? To combat human error and mitigate the impact of a breach, all organizations should provide regular security awareness training. Keep reading to learn more—what it is, when you should use it, and why.
Disclaimer: Please note that the information provided herein offers guidelines only. It is not exhaustive and does not constitute legal, insurance, or cybersecurity advice. For more guidance, please consult a lawyer, a licensed insurance representative, and/or a cybersecurity specialist.

What is security awareness training?
Security awareness training is a formal program designed to help employees understand the role they play in preventing privacy breaches and protecting corporate assets. Effective training teaches people how to safely use data, identify and avoid potentially harmful situations, and respond to cyber threats.
RELATED: How to Keep Employees Cyber-Safe While Working From Home
Why is security awareness training effective?
Education and awareness matter. In this day and age, technology isn't enough to protect your organization. Users are on the front lines and even the most advanced cybersecurity tools in the world won't make up for a poorly trained staff.
Plus, the stronger your defences become, the likelier it is that cybercriminals will target the human element. And most employees tend to underestimate just how much impact careless behaviours have on your overall security posture. With the right training, you can reduce the potential for misinformation and set your staff up for success from the get-go.
RELATED: Prepare Now or Pay Later: How Can Businesses Mitigate the Risk of Ransomware?
Who needs security awareness training?
Everyone who is part of a network—all individuals who share, store, edit, or otherwise access your corporate data—should know the basics on how to protect it, including senior management. In addition to regular training for existing employees, all new hires, including independent contractors, students, and interns, should be required to undergo training as part of their orientation.
Best Practices: How do I implement security awareness training?
Many training programs focus on meeting the requirements set by legislations like PIPEDA, the GDPR, or various healthcare privacy laws. But while regulatory compliance is critical, true security awareness is deeper than most organizations realize.
To keep your data, your company, and your clients safe, you'll need to do more than share a free video or send out the occasional newsletter; you'll need to tailor your program. You'll need to meaningfully engage employees to make sure the information really sticks. And above all, you'll need to treat security awareness like a business function—one that'll reduce your business risks.
Here are the best practices to help you design a comprehensive, people-centric security awareness training program.
1. Know your organization. 
Before you can set up a training program, it's a good idea to determine the current knowledge levels in your company. This way, you can get a sense of your firm's needs and set reasonable goals with your target audience in mind. Be sure to:
Talk to your employees. Survey people across all departments and levels. Pay attention to their work habits, online behaviours, and attitudes towards cybersecurity. What are they doing well and where are they falling short? How many of them follow—or even know about—your organization's security policies?
Consult with your IT team. What challenges are they facing? How many employees are reporting suspicious emails or falling victim to phishing attacks? How many incidents would have been prevented if people had more training?
Conduct assessments. Running random tests or breach simulations can help you identify key risk factors and show management why they should put more money towards training.
2. Get everyone in on it. 
The most successful programs have the support of the senior leadership team, including C-suite executives. Why? Training means that employees need to be allowed—and encouraged—to spend time on learning. If your business leaders don't view training as a priority, chances are your staff won't either. Getting management involved will cement security awareness into your organizational culture from the top-down and help secure more funding for ongoing efforts.
Additionally, when implementing your program, make sure to collaborate with key stakeholders, like HR, legal, compliance, or IT, to pinpoint the top concerns in every department and develop an appropriate strategy for launch. Determine what training will be generalized and what will be specific to certain roles, teams, or locations, as well as when you'll provide it (i.e. onboarding, routine department training, general information, etc.).
3. Customize your training. 
Don't settle for a generic, off-the-shelf training program. Your business has unique needs and the training you provide should reflect that. Make sure your security awareness program is industry-specific and relevant to your operations, industry, location, the type of data you collect, and the tools you use to handle data.
Training should cover all types of risks that employees could be exposed to, be it through their inbox, social media, or network connections. Key topics include:
How to safely collect, store, and handle sensitive data;
How to use software and hardware (i.e. using the VPN, teleconferencing tools, and company and/or personal devices);
Any legal agreements or regulatory frameworks your organization must comply with;
Your company's privacy and security policies (i.e. remote work, BYOD, documentation, confidentiality, etc.);
What cyber threats your firm faces and how to recognize them (i.e. phishing attacks, email fraud, fake websites, ransomware, etc.);
Cybersecurity best practices and why they're important (i.e. proper password hygiene, Wi-Fi security, keeping software up-to-date, etc.);
How to respond to and report security incidents, potential threats, or lost and stolen devices.
RELATED: Multi-Factor Authentication: Why Passwords Aren't Enough Anymore
4. Pick the right type of training. 
Training comes in a variety of forms, such as formal courses, interactive lessons, automated phishing or ransomware simulations, lunch and learns, recorded sessions and webinars, and more.
Be sure to choose a range of formats that fits well with your company size, culture, and workplace demographic. Consider partnering with a third-party, like a cybersecurity firm, to offer high-quality courses or inviting an expert to speak on specialized topics. After all, people learn in different ways and what's best for one team won't always be right for another. Plus, delivering the same information in multiple forms will boost the chances of retention.
5. Spread the word. 
In addition to training, provide constant messaging to maintain awareness in your day-to-day workflows and remind people what's at stake. Share relevant articles, statistics, or security incidents and explain how they could have been avoided. Personalize messages by sharing common risks people might face at home, like identity theft or email fraud—people might be more invested if they understand how being cyber-safe will help them in their personal lives.
Content should be eye-catching, relatable, and stress the value of security. Be transparent, but don't get too technical or fear-monger. Avoid too much cybersecurity jargon and explain any complex terms.
6. Measure your efforts. 
Set up metrics to track the success of your awareness program. In addition to employee participation rates, monitor whether your employees are actually catching more suspicious emails, reporting more incidents, and generally being more security-conscious. Run company-wide simulations or random tests on a quarterly basis and rehearse your recovery procedures.
Routine assessment will help you determine your firm's overall progress and find areas for improvement, including employees who may need extra training. If your initial plan fails to produce positive results, update your training program accordingly.
7. Don't lose momentum. 
Security awareness is an ongoing process. Even if every employee completes the initial training activities, the cyber landscape will evolve over time—and it's crucial that your training evolves with it. Stay abreast of new trends, legislations, and vulnerabilities that could affect your organization and keep your program agile. Add supplementary courses as new threats emerge or as things change within your company.
As a rule of thumb, training should be refreshed annually at minimum to ensure employee knowledge is accurate; however, you may need to update more often depending on your industry.
8. Make it fun. 
Most people see corporate training as a hindrance and might race through a self-paced module to get things done faster, especially as workloads pile up. Alternatively, they might become more lax overtime unless they're actively motivated.
That's why it's key to find ways to "sell" security awareness and engage workers. The more invested they are, the likelier their behaviour is to change. Some key tips:
Get people excited. Set up a friendly competition or even a rewards system to encourage learning and incentivize employees not just to participate, but to actively retain information. Rewards should be based on your corporate culture, whether that's recognition, a physical prize, gift cards, or even cash.
Encourage learning. Identify advocates within your organization to champion your cause and set a positive example to staff. Ask people who have completed training to share what they learned. Create learning communities or online forums where employees can ask questions and share information with one another.
Ask around. Get feedback from your employees about what they like, what they don't like, and how you can improve your program. Adjust accordingly.
RELATED: Work, Sleep, Eat, Repeat: Managing the Burnout Crisis
9. Keep things positive. 
Celebrate wins, but don't shame. Focus on education and collaboration rather than discipline or compliance. Make sure that all employees feel comfortable asking questions and addressing security concerns, without fear of blame or reprimand. Treat security incidents as a learning opportunity. If someone does poorly on a test or doesn't understand a particular policy, give them constructive feedback instead of singling them out. Remember, human error is inevitable and employees will be less likely to report incidents if they feel anxious or scared.
Is security awareness training worth it?
We know, it sounds tedious—and costly—to add yet another security protocol. But if your business suffers a breach, the cost of recovering from an attack will be significantly higher.
And keep in mind: regulatory bodies and clients won't be too forgiving in the event of a breach, even if it was unintentional. It doesn't matter how understaffed you are or whose fault it was, your organization is still responsible for all gaps in protection or breakdowns in security controls. And if you're found negligent under PIPEDA or any other applicable provincial legislation, you could be liable for up to $100,000 in fines.
Even worse? Insurance companies are cracking down on baseline cybersecurity controls, like multi-factor authentication, encryption, offline backups, and security awareness training, for organizations before they can obtain Cyber Insurance. Without a proper training program, you won't be able to rely on Cyber Insurance to cover your losses in the event of a breach, leaving yourself exposed to potentially millions in remediation costs.
RELATED: The Consequences of a Breach: Can Your Business Survive a Cyberattack?
A well-rounded security awareness program is the first step towards creating a robust cyber risk culture, one where employees are proactive, vigilant, and empowered with the skills and confidence they need to do their jobs safely. But be sure to supplement your program with strong cybersecurity and a solid incident response plan so people can take action immediately.
For more guidance on cyber risk management, connect with PROLINK. With 40 years of experience and a specialized knowledge of cyber markets, PROLINK is ahead of industry trends. We can share what steps others in your industry are taking and help you become resilient in the face of attack.
Our dedicated team of risk advisors will help you:
Identify exposures based on your business operations and unique needs;
Adopt a proactive approach to risk management to control your costs long-term;
Conduct a robust assessment of your existing insurance policies to detect any coverage gaps;
Secure a specialized solution that aligns with your strategic objectives.
To learn about your exposures—and how you can protect yourself—visit our Cyber Security & Privacy Breach Toolkit and connect with PROLINK today for more guidance!
PROLINK's blog posts are general in nature. They do not take into account your personal objectives or financial situation and are not a substitute for professional advice. The specific terms of your policy will always apply. We bear no responsibility for the accuracy, legality, or timeliness of any external content.