Work, Sleep, Eat, Repeat: Managing the Burnout Crisis
February 2, 2022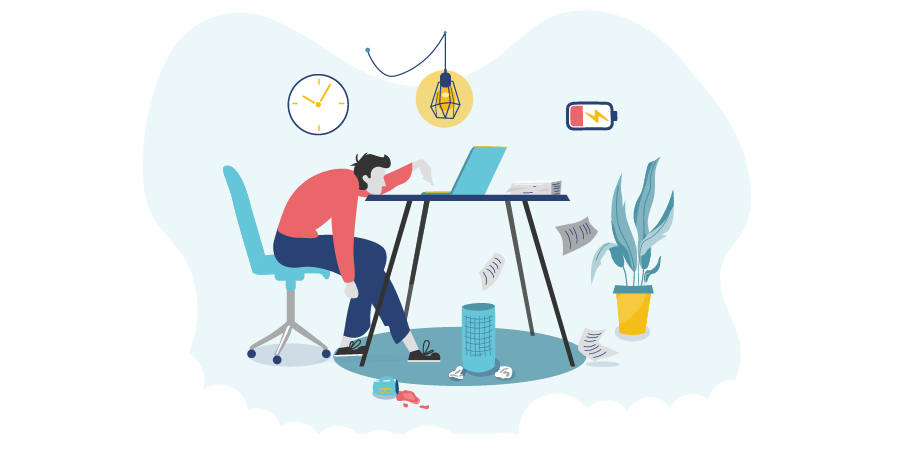 The consensus is in: we're beyond burned out. While most of us are no strangers to fatigue and anxiety, the pandemic has exacerbated our stresses like never before. Most people have spent the last two years staying inside, moving between lockdowns, distancing from friends and family, caring for their children round-the-clock, mourning the loss of their loved ones, and managing their own existential dread about the future, while still being expected to maintain the same workload and pace of work.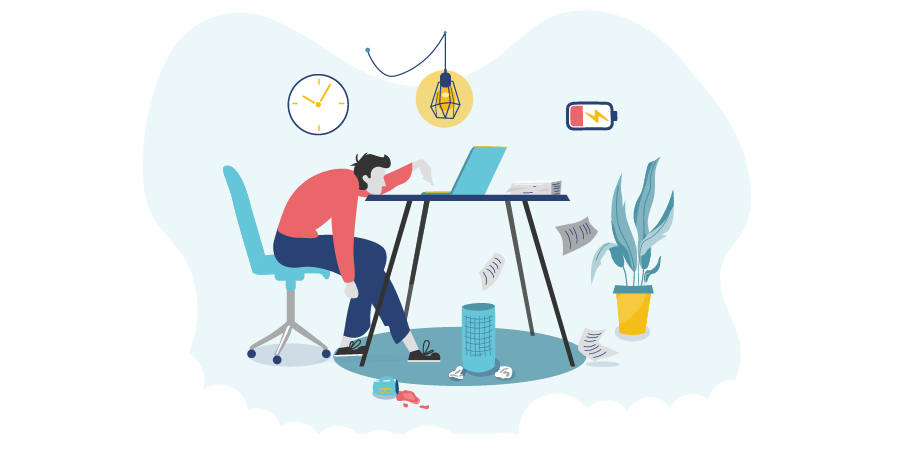 Even though things are slowly opening up, most of us are still struggling. Most of us have hit or are close to hitting a breaking point. And much like the coronavirus itself, we're now seeing new variants of burnout that will affect organizations for years to come.
But what is burnout? Why does it happen? Why is it an employer problem? And more importantly, what can we do to combat it? Keep reading to learn more.
What is burnout?
Burnout is "a state of emotional, physical, and mental exhaustion caused by excessive and prolonged stress." Burnout leaves us feeling overwhelmed, unmotivated, helpless, hopeless, resentful, irritable, and low in energy. And right now, it's affecting all levels of staff, from interns and junior employees, to middle management, to senior business leaders.
According to a study conducted by the Harvard Business Review, 85% of respondents say their well-being has declined since 2020, with 62% struggling to meet their workload and balance work with other responsibilities. A global survey by Catalyst has found that 92% of workers are experiencing burnout from stress related to their workplace, their COVID-19 work experiences, and/or their personal lives.
RELATED: How "free" is Canadian healthcare?
What does burnout look like?
At work, burnout may be characterized by:
Lack of concentration;

Inability to meet daily demands or not completing work on time;

Reduced productivity;

Disengagement or withdrawal;

Feelings of professional inefficacy or a preoccupation with personal effectiveness;
Avoiding open communication;

Struggling to offer or receive constructive feedback or support from others;

Feeling demoralized, discouraged, or apathetic about work;

Habitual lateness or absenteeism; and

Cynicism, aggression, or a hostile attitude.
Why has burnout surged?
The top reasons for the rise in burnout should come as no surprise.
Isolation
Over the last two years, many people have been confined at home, cut off from their vital social support networks. This lack of in-person interaction with family, friends, and colleagues has contributed to an ongoing sense of social disconnection and dread, with almost 38% of Canadians reporting feelings of loneliness or isolation due to the pandemic.
Emotional Claustrophobia
Alternatively, with fewer options for personal space, privacy, and general "me time," others are feeling smothered, overwhelmed, and irritable after spending so much time with their household members.
Overwhelming Job Demands
In 2021, Microsoft's annual Work Trend Index revealed that 47% of Canadian workers felt exhausted during a typical workday and over 50% felt stressed. Why? Employees in all industries are facing unprecedented workloads caused by organizational disruptions, workplace maladjustments, lower staff capacities, or other circumstances directly brought on by the pandemic.
Plus, with widespread layoffs, many have been thrust into new roles and responsibilities, often without proper training or resources, and have been using their evening hours or time off to catch up. An online survey conducted by ADP Canada and Angus Reid found that 44% of remote workers were logging more hours of work than pre-pandemic times. Of that figure, one in ten said they worked an additional day or more than eight extra hours per week.
Worries Over Job Security
Since the start of the pandemic, we've seen pay cuts across industries, thousands laid off, and hundreds of business closures. As a result, fears of job loss and anxieties about meeting financial obligations are pressuring employees to take on extra responsibilities or put in long hours to show their dedication. In fact, more than 40% of Canadians who reported difficulty meeting financial obligations or essential needs due to COVID-19 screened positive for one of three mental health conditions: major depressive disorder, generalized anxiety disorder, and posttraumatic stress disorder (PTSD).
Blurred Boundaries
In recent years, we've seen a trend toward 24/7 accessibility, where employees feel compelled to be available at all hours and respond the second they get an email, even if it's after the end of the workday. But now that we're all living and working within the same space, there's virtually no separation between our "on" and "off" hours, with many people logging on in the early hours of the morning and going well past dinner. Some people may even be working later simply because they haven't been as busy in the evenings or on weekends due to COVID-19 restrictions.
General Weariness
In addition to concerns over getting sick and various financial stressors, the sheer length of the pandemic, the yo-yo effect of moving in and out of lockdowns, and managing family needs while working from home have worn people down. Parents and primary caregivers have been stretched thin trying to balance a new work routine with childcare, homeschooling, and in some cases, taking care of sick or elderly relatives.
Why is burnout an employer problem?
It's tempting to see burnout as an individual problem, or even a problem caused by the pandemic and place the responsibility on the burnee to help themselves. But burnout has been growing for years. And according to experts, we're attacking it from the wrong angle—burnout isn't a people problem, it's a workplace problem.
In 2019, a survey conducted by Gallup discovered that the top five reasons for burnout were: unfair treatment at work, unmanageable workload, lack of role clarity, lack of communication and support from managers, and unreasonable time pressures. The same study also found that two-thirds of workers were experiencing burnout on the job regularly, long before the outbreak of COVID-19. Evidently, burnout is merely a symptom of a much bigger problem: a toxic or unhealthy work environment—one where employees don't feel respected, appreciated, or valued.
RELATED: Back to Normal? Helping Employees Prepare for Work After the Pandemic
How does burnout affect organizations?
If untreated, workplace burnout can hamper the growth of any business and have a cascading impact throughout the entire organization. Burned out employees tend to be less aware of their surroundings, which can raise the number of workplace accidents, security breaches, and safety incidents. Unmotivated, irritable, and stressed workers are also likely to provide sub-par services and cost the company clients in the long-term. Managers are then stretched thin either playing the role of therapist to staff or trying to minimize the damage from slip-ups.
Ultimately, an exhausted workforce leads to declined productivity, reduced engagement, and ineffectiveness. Even one burned out employee can cause team disruptions and affect workplace morale if organizations fail to respond and other team members are left dealing with the fallout by themselves. That means burnout also increases turnover, with unfair treatment, heavy workloads, time pressures, and lack of support pushing workers to leave.
What does the future hold?
In 2021, a poll by the Canadian Centre for the Purpose of the Corporation showed that nearly half of Canadian employees were considering changing their job or entire career post-pandemic; experts have called it "the Great Resignation."
The number one reason? A seismic shift in priorities. People have taken the last two years to reevaluate everything about their lives. Their needs, their wants, their families, their homes, and above all, their careers. Employees aren't just realizing how much they hate their jobs or how stressed they are at work; they're also realizing how little their employers care for their health and well-being—and they're not willing to settle anymore.
RELATED: Back to Normal? Helping Employees Prepare for Work After the Pandemic
What can employers do about it?
Throughout the pandemic, employers have introduced numerous wellness initiatives, like virtual mindfulness training, Zoom yoga classes, mental health seminars, gift cards for work-from-home lunches, and more. Even so, their expectations for workplace productivity remain virtually unchanged. Instead, employees have been encouraged to engage in self-care through meditation, exercise, therapy, meal-prepping, and more. To do more with less, essentially.
But burnout is technically a work problem, an organizational one created by the workplace at that. And as a result, it requires employer-led solutions. Rather than short-term, band-aid solutions, employers must take steps to adjust the norms and expectations that are responsible for stress and burnout in the first place. Instead of remedying the problem, we must aim to prevent it.
Stress and burnout should not be an inevitable condition of work. While there's a lot that individuals can do to take charge of their health and well-being, we can't make lasting change without creating a positive, healthy workplace culture in which employees thrive and feel fulfilled.
A strong workplace wellness strategy should focus on:
1. Inclusive and Empathetic Leadership 
Lead with compassion. Listen to your employees, be open to change, and try to accommodate them where possible. Don't send emails or communications after standard work hours and let staff know that they're not expected to be sending emails after work hours either. Give employees the space and flexibility they need for personal commitments like childcare, eldercare, medical conditions, and other obligations and ensure that they don't feel guilty or inadequate about taking time for non-work responsibilities. Empower employees to take time off to recharge and recover. Legitimize self-care and wellness by embodying these practices yourself.
Employers need to foster an environment where all employees feel safe to discuss mental health issues, work demands, and more. Although the pandemic's shared trauma has begun to ease the stigma of mental health in the workplace, we still have a long way to go.
RELATED: Coping with COVID-19: The Small Business Guide to Reopening, Relief, & Recovery
2. Education and Training
Ensure responsibilities are assigned to those who are capable of executing them—failure to do so is guaranteed cause for burnout. Provide adequate training and resources to guide employees in completing tasks. Monitor their progress and mentor them as needed, particularly those in new roles or with new tasks.
3. Flexible Work Arrangements
Introduce flexible work options, including flex hours and remote work. If possible, try to offer a hybrid model where employees alternate between working from home and the office. Flex work can help organizations attract and retain talent, raise productivity, and bolster innovation, since employees have the freedom to work in the way that best fits their needs.
Hone down your policies and set clear expectations about working styles and times. Communicate a shared understanding that workers may be on different schedules and available at different times.
4. Wellness Supports
Now more than ever, companies are seeing the benefit of wellness initiatives. Employers are recognizing that employees can't simply leave the stresses of their home life at the door and that supporting staff with respect to all aspects of their busy lives—both personal and professional—directly impacts their performance at work. Gartner's 2020 ReimagineHR Employee Survey even found that employers who offer care benefits see an increase of over 20% in employees' physical and mental health levels.
Be sure to implement wellness programs that meet the needs of your workforce. Monitor employees' engagement and readjust as needed. Consider solutions that go beyond traditional offerings, like:
Free subscriptions to mental health apps and platforms;
Access to virtual exercise, meditation classes, and fitness and nutrition coaches;
Financial counselling services;
Subsidized child- or eldercare programs or new parent support;
Group benefits plans and Health & Dental Insurance to help employees pay for costs that provincial health care plans won't cover; and
Employee Assistance Programs (EAPs) that provide access to licensed mental health professionals and counsellors;
And more.
And make sure it's easy to access help. Be transparent and ensure all programs are visible, affordable, and accessible.
The Bottom Line
The impact of the pandemic on our collective mental health cannot be understated. Exhaustion runs deep and won't just disappear overnight; the fact is, employers will likely be dealing with the ramifications of workplace burnout for a long time. And unless they start supporting their workers now, organizations could be facing mass departures once the pandemic is over, disrupting workflows, curbing morale, and preventing business growth altogether.
The long-term impacts of burnout might be even harder on SMBs who may not have the time or resources to implement robust wellness initiatives, hire extra staff, and check in with their workforce. Wellness benefits are also costly and time-consuming and difficult to manage, especially for small business owners who already have a lot on their plate.
But there are affordable options out there—and dedicated risk advisors who can help find them. For more comprehensive guidance about your organization, your wellness planning, or group benefits, please connect with PROLINK.
A licensed broker like PROLINK can help you identify challenges and explore all available options to help you make an informed decision. Plus, our Protect & Perfect risk management approach to group benefits can align your organization with a comprehensive, customizable program that reflects your staff's needs, business challenges, and financial goals.
Connect with PROLINK today to learn more!
PROLINK's blog posts are general in nature. They do not take into account your personal objectives or financial situation and are not a substitute for professional advice. The specific terms of your policy will always apply. We bear no responsibility for the accuracy, legality, or timeliness of any external content.