How Can Employers Navigate the Challenges of COVID-19 Vaccinations?
May 10, 2021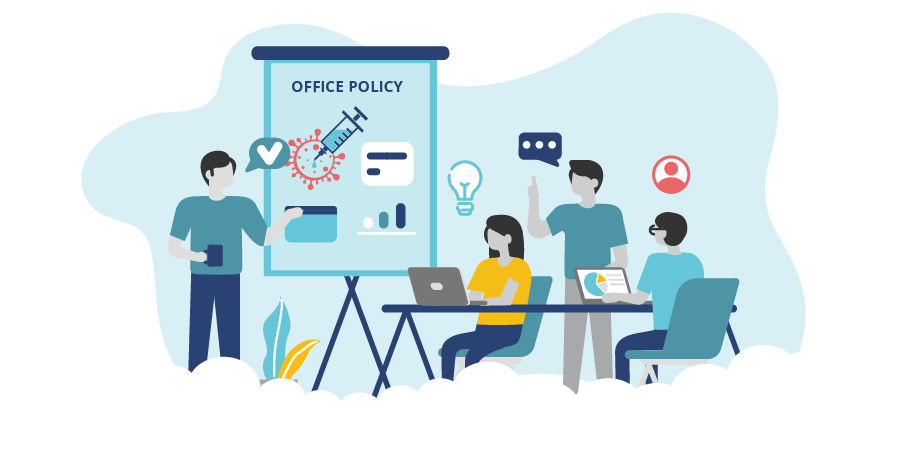 COVID-19 vaccinations are well underway across the country. And while the rollout has been off to a slow start thus far, the federal government maintains that all Canadians who want a vaccine will be able to get one by the end of September. For many organizations, particularly those not suited to remote work, the vaccine promises a return to some semblance of normalcy: resumed operations, recovered profits, and above all, a safe and healthy workplace for staff and clients—without the need for social distancing.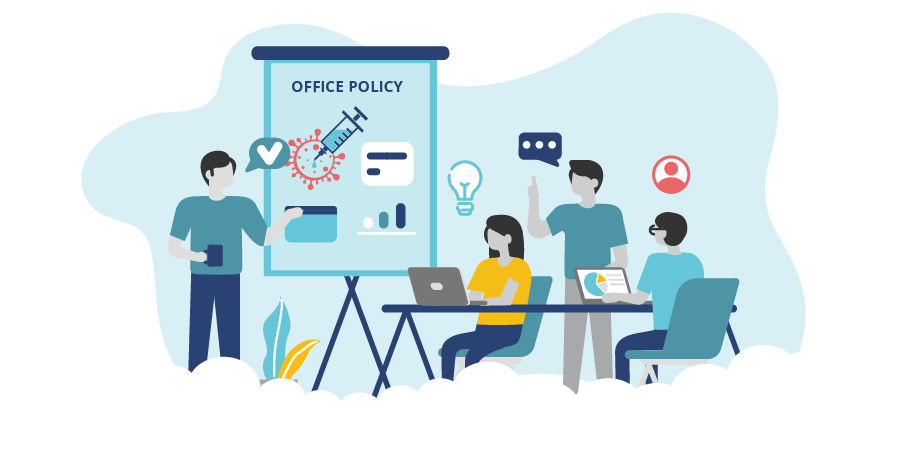 But getting the vaccine into employees' arms won't be without its share of challenges. Employers across all industries are struggling to understand their rights and legal obligations under employment, privacy, and human rights laws. And between limited supply, potential interruptions in distribution, and the time it will take to achieve herd immunity, Canadian businesses will be impacted for quite some time.
As a Business Leader, you have a lot to think about. Can you mandate vaccination? Or should you encourage voluntary compliance? If yes, are there any exceptions, special circumstances, or liabilities you should consider? What if some employees refuse? Will those who've been vaccinated feel comfortable working alongside those who haven't?
To help you navigate these grey areas, we've compiled a guide to the key legal, ethical, and logistical challenges for employers that are considering a COVID-19 vaccination policy. Keep reading to learn more.
Disclaimer: Please note that the information provided herein is general in nature and will not apply to all business, workplaces, employers, employees and situations. It is not exhaustive and does not constitute legal, employment, medical, or insurance advice. For more guidance, please consult a lawyer and/or a licensed insurance representative. To learn more about Canada's vaccine rollout plan, click here.
Can Canadian employers mandate vaccination?
The short answer? It depends. The long answer is much more complicated. While the Canadian government has the power to impose vaccinations in the workplace or otherwise, there are currently no plans to do so. In fact, officials at both federal and provincial levels have consistently reaffirmed that vaccination will continue to be a voluntary practice.
However, under occupational health and safety (OHS) legislations across the country, employers are obliged to take all reasonable precautions to protect workers from serious recognized hazards that cause bodily harm. Failure to provide a safe work environment exposes corporations, representatives, and directors to allegations of criminal liability. Most employers have complied with OHS laws over the past year by enforcing remote work, supplying PPE, or refitting their workplaces to promote physical distancing.
With the vaccine now here, implementing a mandatory vaccination policy may be one way to meet OHS obligations, especially for employers of frontline workers, those carrying out key crisis functions, or those for whom distancing is a challenge (i.e. food manufacturing, emergency response, transportation, warehousing, and distribution). Some companies may even view the maintenance of a coronavirus-free workplace as part of their corporate social and ethical responsibility to employees, clients, communities, stakeholders, and the general public at large.
But it's not that simple. Vaccination is, without a doubt, a medical procedure and enforcing it may go against employees' rights and freedoms under the Canadian Human Rights Act and federal and provincial privacy laws. There may be several reasons workers cannot, or do not want to, be vaccinated and engaging with them may trigger human rights issues or call for an employee to provide sensitive personal information.
Plus, guidelines on workplace safety are based on what's considered reasonable in a given circumstance; they don't require employers to take any and all possible steps. And although vaccination is an effective way to prevent COVID-19 transmission, it not may not necessarily be reasonable or justified in every instance.
RELATED: Coping with COVID-19: The Small Business Guide to Reopening, Relief, & Recovery
Is mandatory workplace vaccination necessary or even justified?
Again, it depends. Employment contexts differ and pose varying levels of risk to anyone who enters the workplace. Reasonable vaccination protocols for a healthcare institution will be very different from that of a meat-packing plant, industrial setting, retail establishment, or commercial office.
In order to impose vaccination, an employer must be able to prove that the vaccine is a justified occupational requirement and why alternative measures, such as mask-wearing, hand washing, and distancing, are insufficient to reduce transmission rates.
To determine if a policy is necessary or justified, employers should consider:
Essential Service: Are employees performing a service that the government has deemed to be "essential"? And if so, do they directly interact with members of the public in an environment where the risk of infection is high? In some industries, like healthcare, education, or hospitality, close contact is unavoidable and PPE may not provide enough protection.
The Vulnerability of Clients Served: Does your organization serve clients that belong to a high-priority or vulnerable group? Do they serve clients that live in a shared setting (i.e. long-term care, eldercare, childcare, correctional facilities, etc.)?
The Nature of the Workplace: Are there issues surrounding staff productivity that cannot be addressed other than by a return to the physical workplace? If employees can adequately work from home, there may not be a reason to order them to head back to the office or insist on vaccinations.
Proximity: If employees are unable to work remotely, can they safely and effectively practice masking, hand hygiene, and physical distancing at work? Or do the requirements for distancing and hygiene impede full business operations? Does the work environment force employees to work with others in close proximity or in a contact-heavy space?
Unionized Setting: Do any workers belong to a union? Is there a collective agreement or joint health and safety committee that should be consulted before a decision is made or a policy is developed?
History of Workplace Transmission: Have employees or other visitors to the workplace been previously infected with the virus? Will vaccination significantly lower the current risk of exposure?
Location: Is the workplace located in a COVID-19 hotspot or in a remote locale? Will there be quick access to medical care in the event of an outbreak onsite?
The bottom line? Mandatory vaccination may not be necessary or justified for every workplace and employers will need to weigh up their OHS responsibilities against employees' contractual, privacy, and human rights before making any big decisions.
RELATED: Business as Usual? The Employer's Guide for Returning to Work
What are the legal and ethical issues surrounding vaccination?
Leadership teams can strive for a 100% immunization rate, but there are limitations to making vaccination mandatory for every employee. While many Canadians eagerly anticipate the end of the coronavirus pandemic, there are many who have no intention of receiving a vaccine. Still, employers have a duty to reasonably accommodate all qualified individuals who refuse to be vaccinated on a ground protected by the Human Rights Act, the Canadian Charter of Rights and Freedoms, and similar legislations. Such grounds include:
Medical Conditions: Some employees may not be able to safely take the vaccine due to pre-existing medical conditions that put them at high-risk for side effects, such as: allergies, pregnancy, documented disabilities, conflicting medications, and more.
Religious Reasons: A sincerely held religious belief or practice may preclude certain individuals from getting vaccinated.
Freedom of Conscience: Despite a general consensus on the vaccines' overall safety and efficacy, many are still hesitant. Some employees may even decline if they feel that a vaccination is unnecessary because they're less likely to experience severe complications from a COVID-19. Alternatively, others may prefer to be in the third, fourth, or even last wave of those who are vaccinated.
Whether it's due to a medical, religious, or moral objection, employee refusals may prompt several other legal and ethical considerations, such as:
1. Accommodations
All employer accommodations should be assessed on a case-by-case basis regarding the employee's specific needs and must be extended to a point of undue hardship, unless doing so would cause a substantial disruption, inconvenience, or expense to the organization. Under appropriate circumstances, reasonable accommodations may include:
Special equipment or modified work;
Schedule changes;
Structural changes to the workspace (relocating the employee to other roles, positions, or areas that are not on the front line, sectioning off their area, etc.)
Continued use of PPE and social distancing;
Requiring employees to undergo regular testing; and
Remote work, if possible, or a leave of absence until herd immunity can be established.
Depending on the workplace, employers may need to request documentation from staff to substantiate their refusal and qualify for accommodations. That includes: an exemption request form, proof of membership in a protected group, proof of a medical condition, a first-hand explanation, or even verification of others who are aware of the employee's religious practice or belief.
2. Termination
How will employees who decline continue to participate in the workplace? Even if someone lacks valid reasons for refusal and all possible accommodation options have been exhausted—if there are truly no other options—employers must still tread carefully. Termination or discipline due to vaccination refusal or implied pressure to vaccinate could give rise to allegations of discrimination.
Additionally, if an employer doesn't accommodate and instead attempts to sever employment, the termination may constitute a human rights violation. The employer could face serious penalties, especially if a worker can prove to the Human Rights Tribunal that they can work safely through other measures (i.e. masks and distancing).
3. Medical Privacy
Will you be collecting proof of vaccination (i.e. immunity or vaccination passport, medical certificate from a healthcare provider)? If so, who will have access to employees' personal health information (PHI)? Are there appropriate safeguards in place to protect the information from a privacy breach? How long will you retain the information? How will information be securely disposed of once it is no longer needed?
By law, all employee health data—including information about medical conditions, prescriptions, and vaccination status—must be kept confidential and separate from employment records. If employers choose to implement a policy and collect proof of vaccination, they must implement strict privacy controls to securely gather, store, and dispose of employee PHI.
RELATED: All About PIPEDA: How do privacy laws affect my business?
4. Discrimination
Employers may face also allegations of discrimination if:
Vaccination status is used for employment-related decisions outside of accommodation;
Vaccinated employees receive extra responsibilities, privileges, or any other kind of preferential treatment;
Certain responsibilities or privileges are withheld from employees who haven't been vaccinated or cannot provide proof of vaccination.
5. Workplace Tensions
Few topics in recent memory have been more divisive than COVID-19 response measures. Given the strong beliefs held by many, it is possible that refusals and accommodations, if not carefully handled, could lead to workplace tensions or damaged relationships between vaccinated and unvaccinated employees. Employers might even face pushback from employees who don't want to come in because everyone isn't vaccinated.
What are the logistical challenges of vaccination?
Employers also face a number of practical obstacles to promoting COVID-19 vaccination in the workplace, including:
1. Administration
How will the vaccine be administered and by whom? Will it be employer-administered? Will there be a contract with a third-party? Will onsite clinics be available during working hours, much like flu shot clinics? Or will employers leave it up to workers and simply ask for proof of vaccination? Is there a timeline? By when will vaccination be required?
2. Time Off
Will employees get time off to receive the vaccine or recover from any side effects? Will they be paid to do so? Will people be reimbursed for travel time or costs? How should employers record the time?
3. Incentive
In lieu of a mandated program, should companies incentivize employees to get the shot with rewards like gift cards or paid time off? If so, will other workers who don't want to be vaccinated see that as discriminatory?
4. Return to Work
How will employers handle the physical return to the workplace? Do all employees fit within a priority status group for receiving vaccines? Not all employees may be able to get vaccinated within weeks or even months of each other. Will vaccinated employees be permitted to return to work first and reintegrate with other vaccinated coworkers?
5. Messaging
Any vaccination mandates must be carefully framed to the workforce. If the purposes behind the requirements aren't fully explained—if people feel forced or pressured in any way—compulsory vaccination may build resentment, diminish morale, and tarnish the company's view in employees' eyes.
What should I do?
At its core, the debate between mandatory or voluntary workplace vaccination is a conflict between public health and safety and individual liberty. Ultimately, leadership teams have three options:
Mandating vaccination as a prerequisite to attend or return to work.
Making vaccination voluntary and/or highly encouraging employees to get the vaccine.
Staying neutral and providing education and information for employees without swaying them either way.
Whatever the approach, your decision will have a cascading impact throughout the organization, with complexities on all fronts. And without proper attention to the legal, ethical, and logistical risk factors outlined above, you could run into trouble. Here are some steps to help you minimize the damage, no matter what you choose.
1. If you haven't already, develop a vaccination policy.
A carefully drafted vaccination policy is crucial to let employees know your expectations of them and the consequences of their failure to meet those expectations. In your policy, remember to:
Off-Ramp: Define your internal processes for valid exemptions and accommodations. Provide non-disciplinary and balanced alternatives for those who refuse COVID-19 testing and vaccination. Create exemption request forms and liability waivers, if needed.
Customize: Avoid boilerplate materials. While there are some common elements to vaccination policies between employers, make sure your policy is tailored to address your organization, industry, workforce, specific circumstances, and the sectors and groups you serve. Consult with unions as needed.
Discipline: You can't discipline or dismiss an employee for failure to test or vaccinate, but you can for general non-compliance with your policy (i.e. breaching COVID-19 safety protocols). Be sure to describe any disciplinary measures.
Be Thorough: Consider any employment issues that may be affected by getting vaccinated: proof of vaccination, time off, paid sick time, paid family medical leave, and more.
Maintain Privacy: Address the privacy of employees' health information. Outline data stewardship and how you will securely collect, store, use, and dispose of employee's personal health information. Don't share a vaccination status with anyone unless it's on a need-to-know basis, such as those directly involved in fulfilling your duty to accommodate an employee.
Review: With information on vaccines changing by the minute, don't forget to review and update your policy regularly as new information becomes available. Stay current with public health updates, OHS legislation, and vaccination protocols.
2. Share resources about COVID-19 vaccines.
It's a good idea for employers to provide information and raise awareness about the benefits of vaccination, rather than mandating it. By arming your workforce with the tools and resources they need to make an informed decision, employers can:
Reduce vaccine hesitancy;
Protect their staff, clients, and customers;
Minimize the likelihood of large numbers of employees seeking exemptions; and
Decrease the risk of legal battles and accusations of discrimination.
Some key tips:
All messaging should be scientifically accurate and effective for diverse groups in your organization.
Offer strong statistics from credible primary sources (i.e. such as Centers for Disease Control and Prevention in the United States or the Public Health Agency of Canada), instead of news outlets or other secondary sources of information.
Include information about both the benefits of vaccinations and possible exemptions for a thorough response so employees are fully aware of their options.
3. Communicate with your employees.
No news isn't good news. Don't leave your staff in the dark—talk to them and keep them informed. All employers must take measures to manage discomfort and prevent any tensions from escalating to discrimination or a hostile workplace. Be sure to:
Consult your employees to determine their present intentions on receiving, or not receiving the vaccine.
Seek to understand their concerns. Administer surveys, hold town halls, information sessions, or other forums to answer questions.
Ensure that all employees feel supported and not judged, should they refuse vaccination.
4. Maintain all COVID-19 protocols.
Keep in mind: the vaccine is intended to help build up your resistance to the virus, so your body will fight it off more easily if you're infected—it doesn't guarantee complete immunity. Even if employers are successful in achieving high rates of vaccination, employees and clients can still catch COVID-19, despite being vaccinated.
That means all other prevention and safety plans should remain in place for the foreseeable future until public health guidelines change.
5. Consult with a specialist.
Every workplace is unique and must be assessed on a case-by-case basis. Consult with experienced employment law counsel to ensure that your organization is well-equipped to address the complex and fact-moving nature of COVID-19 vaccination.
Vaccines are critical in our fight against the coronavirus to advance public health goals and achieve herd immunity. However, they also raise concerns over workers' rights and freedom, medical privacy, and public safety at large. While there are no definite answers, business owners, employers, and leadership teams alike should consider their options. A clear, comprehensive, and well-thought-out vaccination strategy won't just protect your staff and your clients—it'll protect your business in the long run.
For more information regarding COVID-19 vaccinations, visit the Canada.ca website. If you have questions or concerns about your organization, your continuity planning, or your business insurance, please connect with us. We are only a call or an email away.
PROLINK's blog posts are general in nature. They do not take into account your personal objectives or financial situation and are not a substitute for professional advice. The specific terms of your policy will always apply. We bear no responsibility for the accuracy, legality, or timeliness of any external content.