From Promises to Perils: Tips to Navigate AI's Double-Edged Sword
October 19, 2023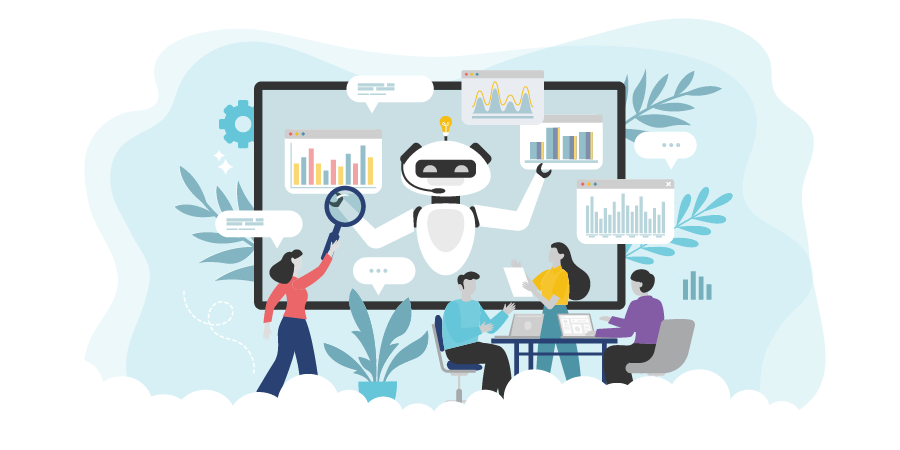 As the tech landscape evolves at lightning speed, artificial intelligence is turning the business world upside down. But with this AI revolution comes a whole host of cyber risks for companies to contend with. Phishing scams, deepfakes, privacy concerns, and more—and that's just the tip of the iceberg.
Despite these challenges, the potential benefits of these tools simply can't be ignored, and in today's cutthroat world, you might just need to ride the wave to maintain a competitive edge and fuel innovation. So how do you strike the right balance between embracing AI and mitigating its risks? To help you out, here are some tips and best practices for safe, ethical, and responsible AI use.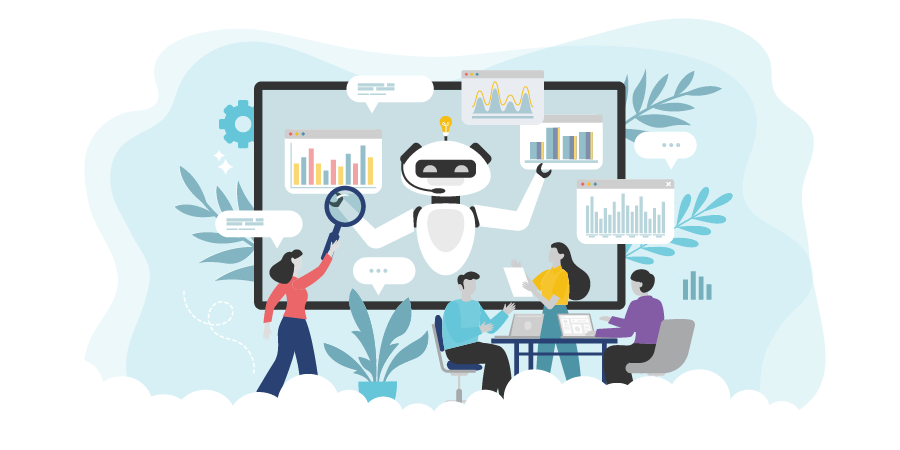 Disclaimer: Please note that the information provided herein offers guidelines only. It is not exhaustive and does not constitute legal or cybersecurity advice. For more guidance, please consult a lawyer, a licensed insurance representative, and/or a cybersecurity specialist. 
What are the risks?
New technologies come with just as many risks as they do rewards. Threat actors are already leveraging generative AI tools to refine phishing scams, write malicious code, and impersonate individuals. AI also raises concerns about privacy and data protection as users become more and more comfortable sharing personal information with systems. Untrained employees may inadvertently expose confidential client data, and even seemingly harmless tools, such as transcription software or virtual assistants, could be quietly collecting intel without your consent. Even worse? We're still not entirely sure just how AI systems handle user input or store data.
Growing reliance on AI could even put your business on the wrong side of the law, with governments worldwide considering AI-related regulations, including Canada's upcoming Artificial Intelligence and Data Act (AIDA), slated for 2025. Then there's your insurance; adopting AI without consulting your insurance providers could put you in a higher risk category, leading to higher premiums or limited coverage.
To learn more about the cyber risks associated with AI use, read Unchecked AI: Top Cyber Risks for Businesses.
PRO Tips: What can you do?
1. Look before you leap. 
Maybe you're licensing an AI software to roll-out company-wide. Or maybe you're just recommending some tools to your employees to save some time and money. Either way, back it up with research. Be sure to:
Define your engagement level. Determine how extensively you want to leverage AI and set specific goals and objectives. This is key if you're implementing a specific tool or program that'll drastically change business operations or add new products or services.
Evaluate AI operators' and systems' reputation, expertise, track record, and financial standing to get a sense of their background.
Be thorough. Put your AI vendor through the same rigorous testing and qualifying process that you would with any new partner or third-party provider.
Consider paid AI tools, rather than free tools, which may not be as secure or reliable.
Review operators' privacy policies to understand how data is protected, where information is stored, and how employees can safely use the system.
Review security features; confirm if safeguards have been tested by any verified or established cybersecurity firms.
Collaborate with all relevant stakeholders in your organization, like your development teams, to evaluate the risks (i.e. quality assurance, accuracy, AI bias, and more) and develop appropriate containment strategies.
Seek expert guidance where needed, particularly for any legal, cybersecurity, or IT concerns. Ensure all AI models and business activities are compliant with relevant laws, regulations, and industry standards.
Establish a legally binding agreement for any major partnerships; engage a lawyer specializing in AI technology to review and ensure its legal enforceability and regulatory compliance.
2. Review your cybersecurity strategy. 
Make sure your cybersecurity strategy aligns with your AI usage. Review all existing protocols, processes, and safeguards and implement new ones as needed. If you don't already have a strategy in place, now is the time to get started. Even if you've never had a breach before, the risks posed by AI are far too great to continue operating without it.
General tips to improve your security posture include:
Ensure operating systems, software, VPNs, firewall configurations, and third-party apps are promptly and frequently patched with the newest updates when available.
Use effective, multi-layered security solutions that enable you to identify and block malicious maneuvers at different stages, including endpoint detection and response (EDR) solutions, end-to-end antivirus and malware scanning, email threat filters, and more.
Incorporate multi-factor authentication (MFA) and secure access controls across your enterprise wherever critical or sensitive data is stored or transmitted, including corporate email accounts, VPNs, and financial accounts.
Set up a secure, offline backup system that isn't connected to the Internet or any of your local networks to prevent hackers from accessing network backups and increase the chances of data recovery.
Encrypt all confidential data at rest and in transit.
Consider specific software and security tools that directly address AI security risks like OpenAI Text Classifier, IBM Cloud Identity and Access Management, and more.
RELATED: 5 Essential Cybersecurity Measures For Insurance Approval
3. Be mindful.
Ensure workers have strict parameters when it comes to AI use. Set clear guidelines around what kind of information should be shared with AI models, how much, and under what conditions. Limit personal information and be sure to differentiate between platforms, especially if workers are using them off-the-books.
4. Educate your staff.
Address AI risks with your staff head-on and routinely train and re-train them on the proper and safe usage of tools. If you haven't already, add an AI component to your security awareness training program. Key topics include:
An overview of how generative AI tools work;
Best practices for using them and any potential risks;
What kind of information they can and can't share;
Which AI tools are company-approved and can be used on business devices;
How to identify or fact-check phishing emails that may be designed by AI;
How to report any suspicious activity;
And more.
Consult with experts to offer specialized training where needed.
RELATED: Security Awareness Training: What is it, Best Practices, & More
5. Be vigilant. 
Prioritize ongoing cybersecurity. Stay up-to-date on new trends, technologies, and industry best practices that could affect you. This will enable you to adapt your AI strategy and mitigate risks accordingly. Be sure to conduct periodic security assessments, audits, and scans to detect and rectify vulnerabilities in AI systems. Much like any other software, update all AI platforms, operating systems, and apps with the latest patches as soon as they become available.
From a regulatory standpoint, be proactive. Keep current with any major legislative changes and work with a legal expert to assess compliance as things change.
6. Reach out to your insurance company. 
Whether you're simply adding a new component to your services or overhauling your operations, engage your insurer early on. This way, you can verify coverage for any AI-related risks and uncover limitations or exclusions well in advance. Your provider can also offer insights on any additional coverages to protect against emerging risks.
And if you don't have Cyber Insurance yet, consider investing in a dedicated policy. Depending on your coverage, you might have access to:
Client notification and credit monitoring for affected parties;
A specialized data forensics team to investigate the cause of the breach;
A legal breach coach to advise you on response and regulatory compliance;
PR consulting services to manage reputational harm;
And more.
Most businesses see insurance as little more than a costly addition to the balance sheet. But if your organization suffers a breach, the cost of recovering from an attack will be significantly higher. And remember: it only takes one data leak or weak password to compromise your entire network.
With a comprehensive Cyber Insurance policy, you'll have the resources and the support you need to respond quickly and effectively, get your business back online, and regain your clients' trust. And more importantly, you can avoid strain and ensure that a breach doesn't jeopardize your company, your standing, or your financial well-being.
RELATED: All About Cyber Insurance: What is it, What's Covered, and Why Do You Need It?
7. Work with a risk advisor.
In today's fast-paced world, technology is moving much faster than we can keep up—and so are cyber threats. As businesses hustle to stay in the game, AI could be the tipping point that determines whether you scale to new heights or struggle to stay afloat. But if you're not careful, even a single misstep could have major consequences for your company down the line.
To stay ahead, you'll need to be proactive, cautious, and agile. You'll need greater insight into the specific risks you face and a strategic action plan to mitigate them. And above all, you'll need to work with a dedicated partner—like PROLINK—that can help you navigate the market and finetune your cyber risk management strategy.
As a licensed broker with over 40 years of experience and a specialized knowledge of cyber markets, we're ahead of industry trends. We'll guide you through the evolving AI landscape and help you become resilient in the face of change. Our dedicated advisors will:
Identify cyber perils, attack scenarios, and any potential losses based on your business operations and unique needs;
Keep you informed about emerging threats, legislations, and innovations that could affect you and share what steps other firms in your industry are taking;
Provide you with comprehensive insurance and risk management solutions that align with your business goals and budget;
Regularly reassess your exposures and readjust your strategy to scale with your leadership, people, and processes.
To learn about your exposures—and how you can protect yourself—visit our Cyber Security & Privacy Breach Toolkit and connect with PROLINK today!
PROLINK's blog posts are general in nature. They do not take into account your personal objectives or financial situation and are not a substitute for professional advice. The specific terms of your policy will always apply. We bear no responsibility for the accuracy, legality, or timeliness of any external content.