5 Life Events that Trigger a Need for Life Insurance
February 21, 2023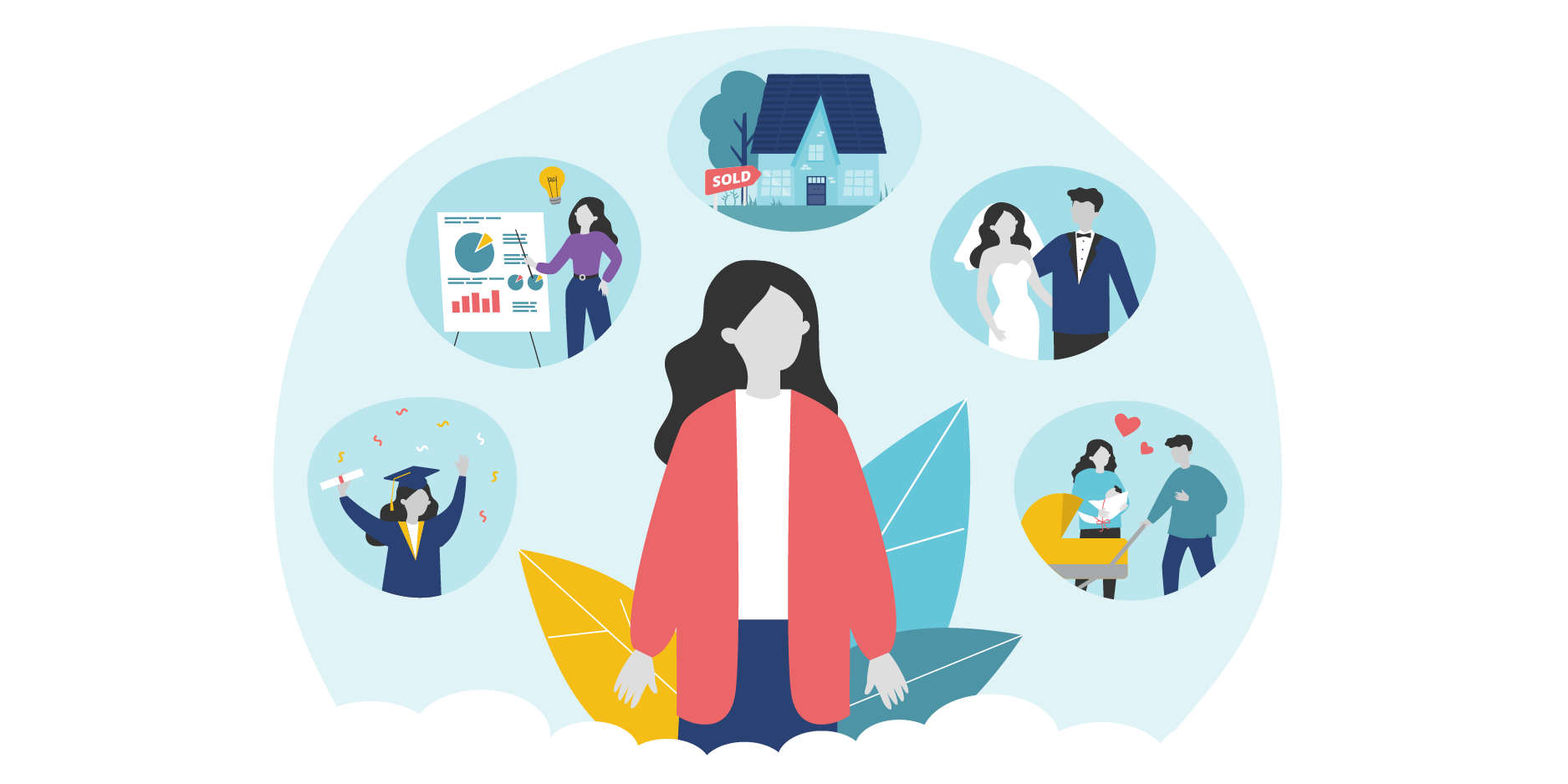 It's safe to say that the topic of Life Insurance probably doesn't cross your mind very often— and understandably so. We know that no one wants to dwell on worst-case scenarios, but think of it this way: Life Insurance is one of the most important tools you can have in your arsenal to plan for the future, boost your financial health, and protect your family in the event of an untimely passing.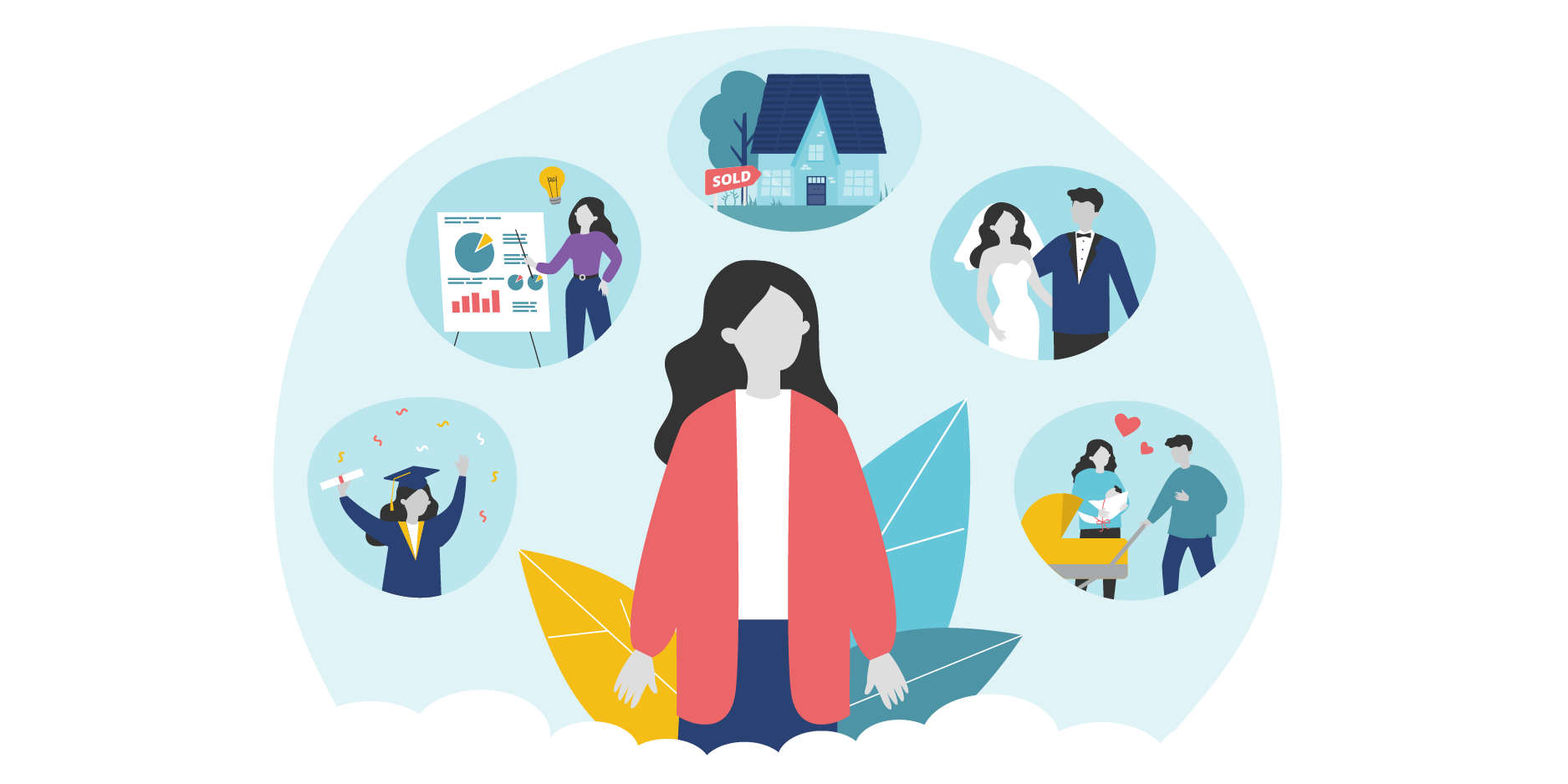 With so many coverage options out there, shopping around for Life Insurance can be overwhelming. Which type of policy is right for you? How much coverage do you actually need? And most importantly, when is the best time to get it?
To help you out, here are the most common events that trigger people to purchase Life Insurance—or to review their existing policy.
1. Getting Married and/or Moving in with your Partner
When you become part of a marriage or common-law partnership, it's not just about you anymore. Now, most of your important financial and life decisions moving forward are made together as a couple. That means that if one of you were to unexpectedly pass away, the impact on the surviving partner would be significant, especially if they were partially or fully dependent on the other's income.
If something were to happen to you, how would your partner be able to shoulder the impact and continue to maintain their quality of life? Losing a loved one is a painful challenge in and of itself—but having sufficient Life Insurance coverage in place will at least relieve some of the financial stresses that come along with it and help to cover funeral expenses and any shared living costs or debts (rent, mortgage, car payments, etc.).
2. Buying a Home
A home is one of the biggest investments you'll ever make in your life, and for the majority of people, it'll come with a mortgage as well. But when you take on a loan this large and significant, keep in mind: if you're unable to pay it off, the responsibility would then fall onto your family.
Some mortgage lenders may offer mortgage insurance before you sign off on the loan, but this type of coverage isn't always in your best interest—not only is it less cost-effective than a traditional Life Insurance policy, but it's also designed to benefit the mortgage company rather than your own designated beneficiaries. Simply put, a mortgage insurance payout won't go towards your family or estate, it'll only be applied to your remaining mortgage balance.
If the worst happens, having enough Life Insurance in your back pocket will ease the financial burden of your debts on your surviving loved ones. So, whether you're buying your first home or upsizing, it's the perfect time to look into coverage options to make sure your family is fully protected.
RELATED: Why Life Insurance is Better Than Your Bank's Mortgage Insurance
3. Having Children
Welcoming a new baby into the family is a key milestone that should prompt anyone to start looking into Life Insurance coverage, if they haven't already. For around the first two decades of their life, children are financially dependent on their parents, from childcare costs, food, and shelter, to the future tuition costs of post-secondary education.
The cost of raising children can be quite substantial, which begs the question: what would happen if one—or both—parents were no longer around to support them? In the event of your untimely death, Life Insurance can act as an income replacement that provides crucial financial support for your children's future.
In particular, Term Life Insurance is a great option to protect your family during your prime income-earning years, since it offers affordable coverage for a set period of time, and you won't need to hold onto it once your children are all grown up.
RELATED: Life Insurance Doesn't Have to Be a Lifelong Commitment—Here's Why
4. Changing Employment
Whether you're up for a big promotion, switching to a new employer, or becoming an independent contractor, a change in your professional life can also mean a change in the life and health insurance coverage you've been counting on.
Job promotions usually come with a raise in salary, which should call for a review of your existing Life Insurance coverage. Maybe the cost of getting your own policy wasn't in the budget before, but it is now. Or maybe you're ready to improve your lifestyle by taking on bigger financial commitments, like a new car or a larger home. Increasing your coverage will provide the financial support to help your family pay off these new responsibilities and replace the increased income that you just received with your promotion.
While Term Life Insurance is often offered by employers as part of an employee benefits plan, what happens if you decide to leave your current role to work for another company or to become self-employed? You'll lose access to those group benefits, and depending on the plan your new role offers (if any), you might have to consider getting individual life and health insurance to cover all your needs. With an individual policy, you'll be secure in the knowledge that your coverage won't change when you change jobs or employers, and you'll benefit from a lower cost in the long-term.
RELATED: How "free" is Canadian healthcare?
5. Starting a Business
When you're preparing to start a business, Life Insurance might not be at the top of your to-do list—but it definitely shouldn't be overlooked. Think about it: what would happen to your business if you unexpectedly passed away? Would operations be able to continue in your absence? Or would your debts and responsibilities fall onto your dependents? Not only would your passing have a tremendous effect on your family, but it might even jeopardize all the hard work you've invested into building your business.
As an entrepreneur, having comprehensive Life Insurance is essential to protect your company, business partners, and employees, as well as your loved ones. Plus, there are provisions that can be added to your policy for your unique business needs, such as Key Person Insurance, Buy and Sell Agreements, Debt Coverage, and more. For additional information, check out our piece on Life Insurance: What Business Owners Should Know.
Life Insurance is something that can easily be put off, and most people tend to ignore it until a big shift happens in their life. But premiums will rise with your age, and some people may experience changes in their health that will further limit their coverage options in the future. The younger you are, the lower the cost will be, and the easier it is to be approved for coverage.
Now that you know about these trigger events and the benefits of buying earlier, why wait? If you think you might need Life Insurance in the future, consider getting your policy in place sooner rather than later. That way, you'll always have the peace of mind that your loved ones will be taken care of in your absence.
Need guidance? PROLINK can help you find coverage that works for all your unique needs and protect those that matter most to you. Connect with us today to learn more!
PROLINK's blog posts are general in nature. They do not take into account your personal objectives or financial situation and are not a substitute for professional advice. The specific terms of your policy will always apply. We bear no responsibility for the accuracy, legality, or timeliness of any external content.