Only 50% of Canadians Know What to Do After a Car Accident: Do You?
February 24, 2020
There's no denying it—whether it's a fender-bender or a major collision, car accidents can be scary. But as hard as it is to go through an accident, sometimes dealing with the fallout can be just as bad.
Between documenting details, police reports, and dealing with insurance, the aftermath of an accident can be anything from a minor inconvenience to a logistical nightmare. And according to the latest reports, only 50% of Canadian drivers are prepared to go through the claims process following a crash.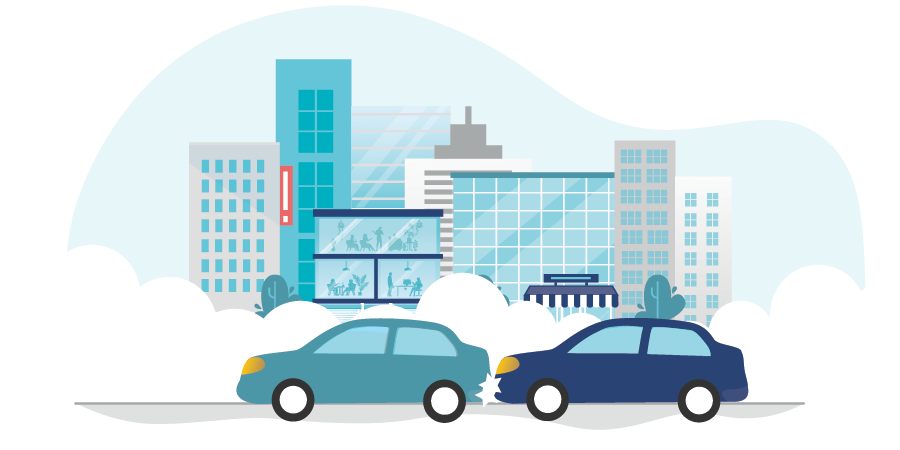 To help you out, we've put together a list of all the things you should and shouldn't do after an accident.
1. DON'T leave the scene.
Never leave the scene of an accident, even if the wreck doesn't seem serious. Do your due diligence and help out whoever else is involved. I mean, you'd want them to do the same for you (and your loved ones), wouldn't you? It's the right thing to do.
Plus, driving away isn't just immoral; it's illegal. According to federal law, you're legally obligated to stay behind and exchange information with the other driver. If you leave, you could be charged with failure to remain or stop under the Canadian Criminal Code and any applicable provincial legislation (in Ontario, that's the Highway Traffic Act).
2. DON'T lose your cool.
After an accident, your emotions can run high, especially if you're injured. Don't get out and start berating or blaming the other driver, even if they're at fault. We know, it's easier said than done. But remember, they're probably just as shaken up as you are. And what if they're injured or have children in the car?
Take deep breaths and clear your head. Assess the situation and try to figure out exactly what happened. If you're able, make sure everyone is safe—you, the other driver, all passengers, and anyone else impacted by the collision. Let your family or a loved one know what's happened, if needed. And if possible, determine whether you should move your car to a safer spot on the side of the road.
3. DON'T fail to report the accident.
Call 911 if there are any injuries (minor or major). And if you suspect the other driver is guilty of a Criminal Code offence or if there's at least $2000 of property or auto damage (for every car), you're legally obligated to call the police. It's pretty common for most people to underestimate the value of the repairs needed—even fixing a few small scratches can cost hundreds of dollars. So unless you're okay with a fine and some demerit points, it's better to be safe and alert the authorities.
4. DON'T apologize.
Be sure not to accept fault for the accident at any point to anyone involved, including the police; your apology could be considered an admission of guilt if the other driver ultimately decides to sue you. Be polite, but also protect yourself. Instead of saying you're sorry, ask if they're all right.
5. DON'T forget proper documentation.
You'll need an account of the accident for law enforcement and insurance purposes so be sure to get the other driver's information (and give them yours). Record details for:
The date, time, and location and a description of the accident;
All drivers involved (name, licence number, policy number), including their vehicle (make, model, registration number, licence plate) and insurance information;
All witness, passenger, and police (name, badge) information;
The extent of any injuries and vehicle damage.
If possible, take photos of the scene, the positions of the cars, and any damage. The more information you have, the smoother the reporting and claims processes will be.
6. DON'T avoid telling your insurance company.
No one wants their Auto Insurance rates to go up because of an accident. But while it may be tempting to negotiate an out-of-pocket settlement with the other driver, you're exposing yourself to a potential lawsuit if they sue you anyway. What if the other driver is trying to scam you? Or if the damage to their car is more extensive than they thought?
Plus, your provider won't just guide you through the claims process—they'll recommend the best options for towing, repairs, and rental service to avoid costly mistakes and delays. A study from Aviva Canada also found that nearly two-thirds of Canadians are unlikely to use an insurer-approved repair shop and overpay as a result.
7. DON'T just shrug it off.
Don't just shake off the accident and forget about it as if nothing's happened. Stay on top of your insurance claim (or have your broker do it for you) and keep in touch with your repair shop. The sooner things are resolved, the sooner you can move on.
That includes your health too. Monitor yourself closely for any pain or persistent health problems and seek out medical attention if needed. Adrenaline and shock often mask the symptoms of a serious injury until much later, so you might be more hurt than you realize.
No matter how cautious you are, accidents happen. But how you handle the aftermath isn't just crucial for your insurance—it's crucial for your safety. Taking the time to follow the steps above can help you and anyone else involved avoid further harm, hassle, or damage.
To learn more, connect with PROLINK today. We can walk you through the claims process, explain your Accident Benefits, and set you up with a comprehensive Home & Auto Insurance policy so that you're back on the road in no time.
PROLINK's blog posts are general in nature. They do not take into account your personal objectives or financial situation and are not a substitute for professional advice. The specific terms of your policy will always apply. We bear no responsibility for the accuracy, legality, or timeliness of any external content.