The 8 Most Frequently Asked Questions About Professional Liability Insurance
August 6, 2020
Insurance is just…one of "those" things. You know, "those" things that everyone pretends to understand but secretly has no clue about. Kind of like taxes or the stock market or golf.
Have no fear, PROLINK is here! In this post, we'll be covering some of the most frequently asked questions about Professional Liability Insurance.
Need a quick refresher? Professional Liability Insurance protects you (or your business) from allegations of errors, omissions, or negligence committed within the scope of your profession. It'll cover your damages—legal expenses, administrative costs, and court settlements—EVEN if the claims made against you are groundless. For more information, on what it is, what's covered, and what's not, click here.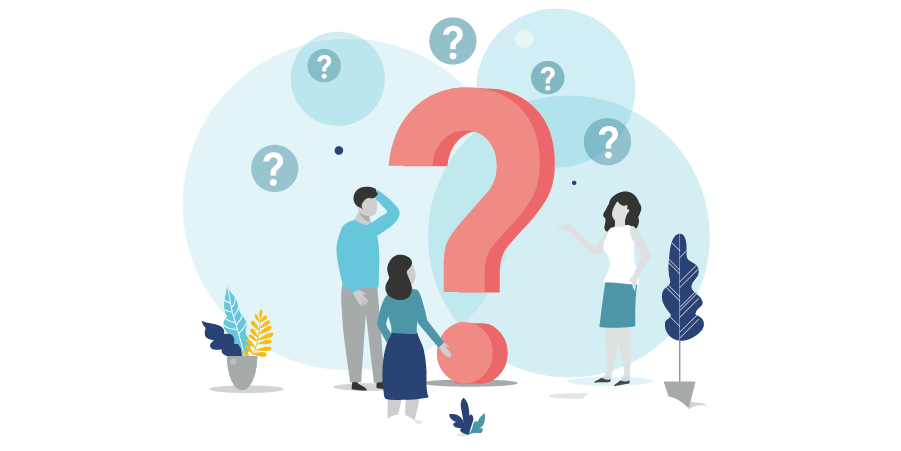 Does Professional Liability Insurance protect me for everything I do as a working professional?
If you buy a plan through an association, your coverage only applies for professional services rendered within the capacity of your profession. Any independent work or extra services you provide will need extra insurance coverage.
Let's put it like this: if you purchase insurance through an accounting association, you're only covered for work within your scope as an accountant. But if you also moonlight as an event planner, you'll need a separate policy for that.
Remember to check your policy for included and excluded services.
Will Professional Liability Insurance protect me if I'm charged with a criminal offence?
Yes, but only if the charges are dropped or if you're not found guilty. If you're found guilty of criminal action, you won't be reimbursed for legal defence. Please remember to look at the specific terms of your policy.
I work part-time and/or subcontract work. Do I still need Professional Liability Insurance?
Absolutely. All professionals in public practice should have at least a basic insurance policy, especially if they provide direct advice or service to clients. Yes, working fewer hours might reduce the risk of a claim. But mistakes are inevitable. And they can happen regardless of your employment conditions. Remember, it only takes one lawsuit to bankrupt a business or leave a lasting impact on your finances. And your reputation.
Plus insurance might be a requirement of your regulatory body (especially if you're in finance or healthcare), so you might not even be able to practice without it. In some industries (like construction or consulting), insurance may be necessary for securing clients or certain vendors—no insurance, no contract.
Is my staff covered under my policy?
They can be. As you grow your business and update your insurance coverage, your policy can be expanded to cover the people employed by your company. Any new workers can be listed in your policy as an additional insured.
Am I covered if I go on leave or retire?
Keep in mind that Professional Liability is a claims-made policy. That means that the policy you have in place at the time an allegation is reported will respond, NOT the policy you had in place at the time you committed the alleged act. So if you cancel your policy and retire or go on leave and you're served a lawsuit for an act prior to your cancellation date, you won't be covered under your old, now expired, policy.
This is a KEY detail. And it's why brokers always recommend continuous coverage after retiring or going on leave for a reasonable period of time in case anyone makes a claim against you for past work.
Be sure to check if your program has an extended reporting period (ERP), also known as a discovery period or tail coverage, so you don't have any gaps in protection. An ERP will keep your policy in force for a specified duration of time following cancellation or non-renewal and cover you for any claims reported within that period.
What's a "limit?"
Simply put, a limit is the total amount your insurer will pay for a particular claim.
How much coverage should I get?
That depends on your needs, your budget, and your level of risk. It might be tempting to pick a plan with a lower premium (and lower limits), but remember that if you opt for lower coverage and exhaust your policy, you'll have to cover all claims out-of-pocket for the rest of your policy term. Be sure to carefully assess your risks, your worst-case-scenario, and any associated costs before selecting your limits.
The million dollar question…how much does it cost?
Again, that depends. There's no one-size-fits-all insurance policy.
Insurance rates are impacted by several external and personal factors. External factors are outside your control, like the industry you're in, the state of the market, and the location of your business. Personal factors include: your exposures; your business size (clients and employees); years of operation; your claims history; and even your credit score. Your carrier will evaluate your risks based on these factors and generate a custom rate and policy just for you.
To keep the cost low, it helps to have a clean claims history, a good credit score, and quality control policies in place to catch errors before they happen. And if you're part of a professional association, consider looking into their group insurance program. You'll get an even better deal since you're being grouped in with thousands of other people.
Still have questions? Give us a call. Taking the time to understand your coverage and what it can do for you might make all the difference when it matters most. With over 40 years in the industry, PROLINK—Canada's Insurance Connection is equipped with the tools to help you make an informed decision and offer you a comprehensive insurance plan that suits your business needs.
The more you know, the more you can save. Plus, if you're part of a professional association, you could be saving hundreds of dollars off of standard market rates through PROLINK's group insurance program!
To learn more, contact PROLINK today!
PROLINK's blog posts are general in nature. They do not take into account your personal objectives or financial situation and are not a substitute for professional advice. The specific terms of your policy will always apply. We bear no responsibility for the accuracy, legality, or timeliness of any external content.